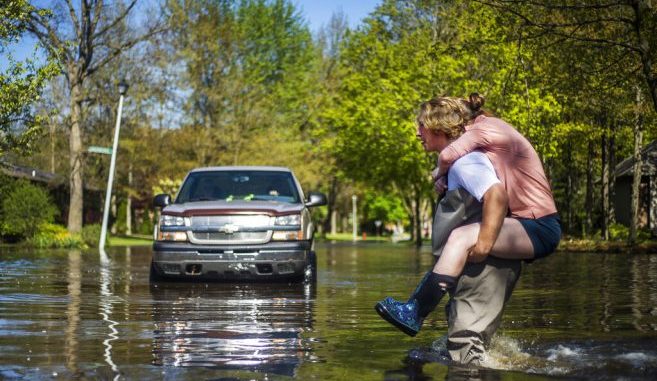 OAN Newsroom
UPDATED 12:40 PM PT — Thursday, May 21, 2020
Residents in Michigan began picking up the pieces Thursday in the wake of severe flooding. Authorities are assessing the damage left behind a few days after a dam in Midland County along the Tittabawassee River became overwhelmed by heavy rain.
Several thousand people have been evacuated and a state of emergency has been declared.
.@GovWhitmer declared a state of emergency for @midlandcountymi after the Edenville & Sanford Dams breached. "If you have not evacuated the area, do so now and get somewhere safe," said Gov. Whitmer. "This is unlike anything we've seen in Midland County." https://t.co/hMmN5QBdlQ https://t.co/oC3YzKv8Ls

— Michigan.gov (@migov) May 20, 2020
Michigan's governor has expressed gratitude for those on the front lines.
"I want to start by thanking our first responders, who did heroic work in the late hours, in the midst of global pandemic, to get people out and to keep them safe. …The damage is truly devastating. To see how high the water levels are, to see roofs barely visible in parts of midland and to see a lake that's been drained in another part. It's truly remarkable how much damage we have sustained. But I think the most remarkable thing that I saw yesterday was people that were stepping up to help one another and take care of one another." – Gretchen Whitmer, Governor of Michigan
Governor Whitmer update of dam breach in Midland County https://t.co/ZViYvLgp0R

— Michigan State Police (@MichStatePolice) May 20, 2020
Residents downstream have been warned of more potential flooding. According to officials, they probably won't know the full extent of the damage for several days.
In the meantime, the dam's operators are being investigated.