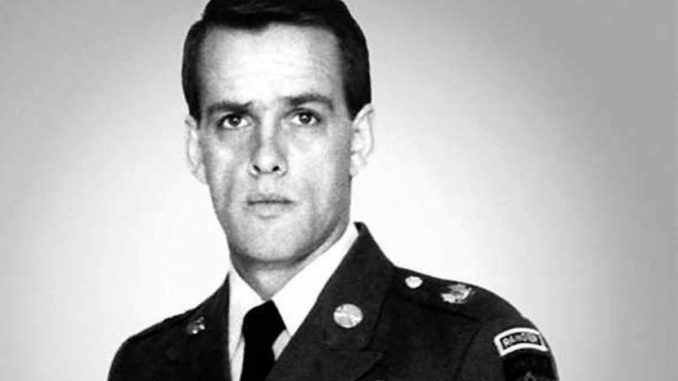 Police in Maine are seeking assistance in identifying suspected vandalism to Delta Force Master Sgt. Gary Gordon's headstone, which appears to have been done sometime in the last two weeks.
Gordon was posthumously awarded the Medal of Honor for his bravery in 1993's First Battle of Mogadishu during Somalia's civil war, giving his life to protect a downed helicopter pilot during the incident at the center of the book and movie "Black Hawk Down."
The Lincoln Police Department, "with an extremely heavy heart," posted photos of the damage to Gordon's headstone in a Facebook post requesting the public's help Wednesday. It called Gordon a hometown hero for the small town about 50 miles north of Bangor.
The images showed gold paint sprayed over the stone's inscriptions, including the Delta Force insignia, a beret symbol and the Medal of Honor.
"There has been talk that this may have been done as an additional honor, where Medal of Honor recipients have gold inlaid to the engravings and that this is still a work in progress," the police department's post said. "If that is the case, the family was never notified that this was happening."
The department could not provide an immediate update Thursday.
The town has hired a company to try to clean it up before ordering a replacement, Jeremy Weatherbee, Lincoln's director of cemeteries, parks and recreation told Bangor television station WABI.
"Not only was [Gordon] a local hero, he was a real American hero," Weatherbee said Wednesday.
A member of 1st Special Forces Operational Detachment-Delta, Gordon was a sniper team leader on the lead Black Hawk helicopter providing aerial support during the Oct. 3, 1993, raid of the Somali capital, which was designed to capture "high-value targets" affiliated with warlord Mohamed Farrah Aidid.
When two other helicopters were shot down, Gordon and Sgt. 1st Class Randall Shughart repeatedly asked to be inserted to protect survivors at the second crash site, despite knowing that militants were closing in and that they likely didn't stand a chance, the Pentagon said in a statement last July honoring Gordon.
The pair were inserted about 100 meters from the crash site and fought their way through gunfire and "a dense maze of shanties and shacks," it said. At the crash site, the co-pilot and two crew chiefs were already dead, but Gordon pulled Chief Warrant Officer 3 Michael Durant, the badly injured pilot, from the wreck.
He and Shughart then fought to protect the site's perimeter until Shughart was fatally wounded and Gordon was running low on rifle ammunition.
"Good luck," he said, handing a rifle with the last five rounds to the pilot. He returned to fighting with just his pistol. He was quickly shot and killed, and Durant was taken hostage for about two weeks.
Gordon's sister first noticed the apparent vandalism to the gravesite in a picture posted on Facebook, she told WABI. Her brother is buried next to their father, Cpl. Duane Gordon, and the grave site is visited frequently, the television station reported.
"I have no words for it," Robin Gordon said. "It's just disrespectful."
The site is "all I have left of him," she said, and it "means the world to me."
Based on the photos, it didn't look to local headstone maker Rustie Dolley like someone had tried to ruin the stone. But even if done with good intentions, it wasn't appropriate.
"If a professional would have done it, it wouldn't have looked like that," said Dolley, who runs The Pines Monument Services in Lincoln.
On Facebook, the police asked for information on the incident, whether it was done "maliciously or with honorable intent," and called for the guilty party to come forward.
"Do the right thing and turn yourself in," the post said. "Before we find you."
© Copyright 2020 Stars and Stripes. All rights reserved. This material may not be published, broadcast, rewritten or redistributed.