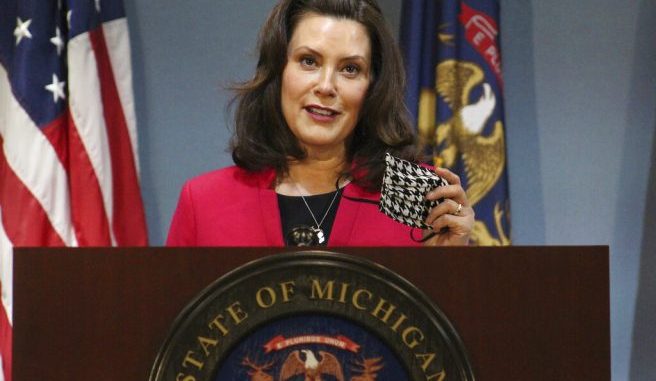 OAN Newsroom
UPDATED 1:00 PM PT — Thursday, May 21, 2020
Michigan Governor Gretchen Whitmer has announced her state will soon begin to ease some coronavirus restrictions. On Thursday, she stated she's signed a number of executive orders that will "phase in additional sectors of the economy."
According to the governor, small gatherings can immediately resume. Retail shops can reopen as long as they maintain 10 or fewer customers inside at once. Non-essential medical and dental procedures will be allowed to reopen next week.
Because of every person who did their part to slow the spread of #COVID19, the data shows that Michigan is ready for this step. Stay smart, stay safe, and continue to do your part to protect our communities. We're getting through this together.

— Governor Gretchen Whitmer (@GovWhitmer) May 21, 2020
Though the governor relaxed some restrictions, she has said Michigan's stay-at-home order will likely be extended beyond May 28th, when it is set to expire.
"The reengagement of construction, manufacturing, the reengagement of retail by appointment, the reengagement of medical…we're taking a lot of steps," stated Whitmer. "We've got to take a pause and see what it means in terms of what happens with COVID-19 numbers."
She noted businesses and employees must still take necessary precautions, including mask wearing and social distancing, to help limit further spread of the virus.
Earlier that day, Governor Whitmer fired back at President Trump after he threatened to withhold funding over the state's absentee ballot initiative. During an interview, she called the president's suggestion "dangerous."
She claimed its "ridiculous" the president would take money from a state "hurting as bad as we are" amid the historic flooding the state experienced after two local dams burst.
The governor has stated she wants the president to put politics aside.
"Threatening to take money away from a state that is hurting as bad as we are right now is just scary and something, I think, that is unacceptable," said Whitmer. "…We are hard working, good Americans and we need the support of our federal government as much as anybody else, if not more, right now because of this added challenge."
She added the president appeared to walk back on his remarks after speaking on the phone with her Wednesday.
MORE NEWS: Officials Assessing Damage In Wake Of Mich. Flooding