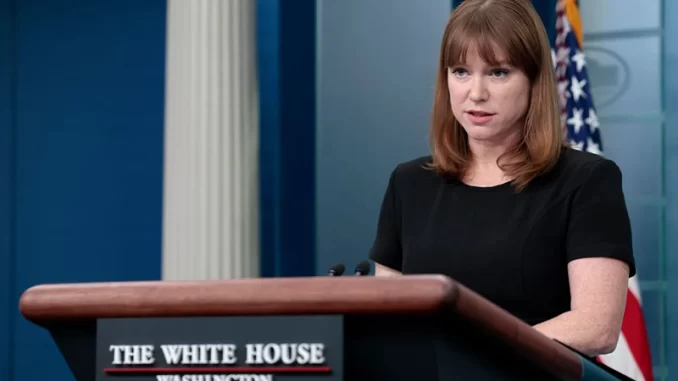 OAN Roy Francis
12:38 PM PT – Friday, February 10, 2023
White House Communications Director Kate Bedingfield is set to leave the White House, but is expected to have a role as a consultant in President Joe Biden's reelection campaign in 2024.
The White House released a statement about the upcoming change of staff.
"Since my time as Vice President, Kate has been a loyal and trusted adviser, through thick and thin," President Biden said. "The country is better off as a result of her hard work and I'm so grateful to her – and to her husband and two young children – for giving so much."
Bedingfield will be replaced by Ben Labolt, a Democratic communications professional. Labolt had served on three presidential campaigns including as a senior national spokesperson for Obama-Biden in 2008 and as the Obama-Biden national press secretary in 2012.
He had also previously worked with the Biden White House during the confirmation of Supreme Court Justice Ketanji Brown Jackson.
President Biden also commented on the appointment of Labolt.
"Ben has big shoes to fill," he said. "I look forward to welcoming him back as a first-rate communicator who's shown his commitment to public service again and again, and who has a cutting-edge understanding of how Americans consume information."
Bedingfield had previously teased her departure from the administration last summer, but later changed her decisions. Now she says she is "ready in a way she wasn't last time."
The White House communications director is responsible for the publicity and messaging strategy for the president. This move comes at a crucial time, as Biden is nearing a decision on how he will be working to sell his achievements to the American public as he prepares for his 2024 campaign.
This will prove difficult for the president and his staff since recent polls show that the majority of Americans disapprove of his actions within the White House.
The departure of Bedingfield, who had worked with Biden for several years, is not the only change in staff at the White House. Former Chief of Staff had departed this week, Top Economic Advisor Brian Deese, as well as Labor Secretary Marty Walsh have both announced their departures as well.
The White House had commented on the new appointment, announcing that Labolt will be the first out gay White House Communications Director.