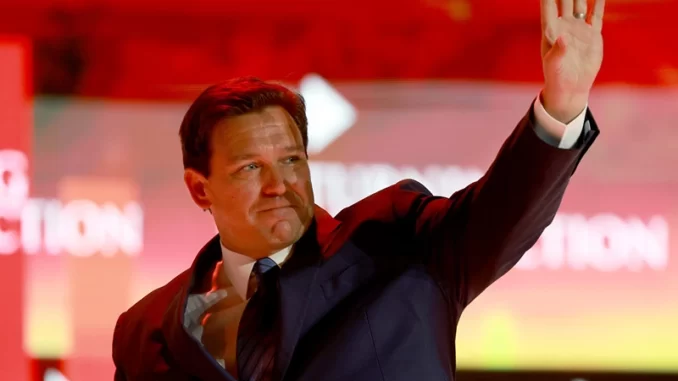 OAN Geraldyn Berry
2:42 PM PT – Friday, February 10, 2023
A bill extending Governor Ron DeSantis' initiative to transfer migrants to Democratic sanctuary cities has been approved by the Florida Senate on Friday. The Republican will be allowed to relocate immigrants from all other states, not only Florida, to another location.
Along party lines, the bill was approved by both chambers controlled by Republicans and is now headed to DeSantis (R-Fla.) for his approval.
"People are sick of having an open border with no rule of law in this country," DeSantis said. "We can just sit here and do nothing about it or we can actually stand up and say, 'Whatever tools we have at our disposal, we are going to be using."
The bill formalized the Unauthorized Alien Transport Program which expanded on a DeSantis-enacted initiative from the previous year that allowed officials to fly migrants to locations in red states with sanctuary laws.
A few weeks after hundreds of migrants from Haiti and Cuba landed in the Florida Keys, many of whom had endured journeys on homemade boats, the measure extending the migrant transport program was passed. According to Republican legislators in Florida, the program's expansion is intended "to respond to the flow of migrants landing in the Florida Keys."
The bill's wording stated that it will "facilitate the transport of inspected unauthorized aliens within the United States." People who have "documentation from the United States Government indicating that the United States Government processed and released him or her into the United States without admitting the individual in accordance with the federal Immigration and Nationality Act" are included in that category, according to the law. That refers to those who have been allowed entry into the country while their immigration and asylum applications are still being processed.
Democrats uproared and likened the move to human trafficking. However, Representative John Snyder (R-Fla.) argued during floor discussion on Thursday that the program was "humanitarian" because it offered a "free, chartered flight" for migrants who wanted to move elsewhere in the country. Conservative have cited the move as a necessary tool to draw attention to the border crisis in the United States.
DeSantis had previously flown about 50 South American migrants from Texas to Martha's Vineyard, Massachusetts, using a portion of a $12 million taxpayer-funded budget in opposition to federal immigration law.