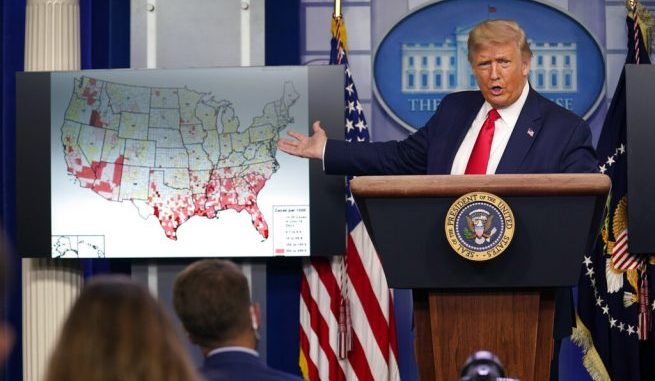 OAN Newsroom
UPDATED 4:20 PM PT — Thursday, July 23, 2020
On Thursday, President Trump announced the Republican National Convention in Jacksonville, Florida has been canceled. During his latest coronavirus briefing, the president confirmed the convention will be replaced by teleconferences following a "flare up" of cases in the state.
President Trump: "I told my team it's time to cancel the Jacksonville, Florida component of the GOP convention…I'll still do a convention speech in a different form but we won't do a big crowded convention, per se. It's just not the right time for that." pic.twitter.com/7gtVFrDyI0

— CSPAN (@cspan) July 23, 2020
He's informed Governor Ron DeSantis and the mayor of Jacksonville about his decision, which he said he made to "protect the American people."
"I have to protect the American people, that's what I've always done, that's what I always will do," he said. "There's nothing more important in our country than keeping our people safe."
The president went on to discuss the details of the GOP convention moving forward.
"I told my team it's time to cancel the Jacksonville, Florida component of the GOP convention. We'll be starting in North Carolina for the Monday, as has always been planned. We were never taking that off, that's remaining as it is. The delegates are going to get together. That's where they do their nomination."
– Donald Trump, 45th President of the United States
The president also spoke about the importance of opening up the nation's schools this fall. He discussed "health protocols" to protect both students and teachers.
"Our goal is to protect our teachers and students from the China Virus, while ensuring that families with high-risk factors can continue to participate from home." pic.twitter.com/HLsVNpTTBR

— The White House (@WhiteHouse) July 23, 2020
The U.S. topped 4 million confirmed coronavirus infections on Thursday following the nation's previous record of 3 million, which was announced 15 days prior. According to Johns Hopkins University, the nation also reported more than 143,000 deaths this week.
The CDC has warned that the total number of cases is likely ten times higher than reported.
States like California, Florida and Texas continue to see case numbers increase. In the meantime, over 1,210,000 people have recovered from the virus.
President Trump has encouraged the American people to slow the spread of COVID-19 by wearing face masks and practicing social distancing.
As we make progress toward therapeutics and a vaccine, President @realDonaldTrump is reminding Americans to wear masks and continue appropriate social distancing. pic.twitter.com/D9dxzva5uZ

— The White House (@WhiteHouse) July 23, 2020