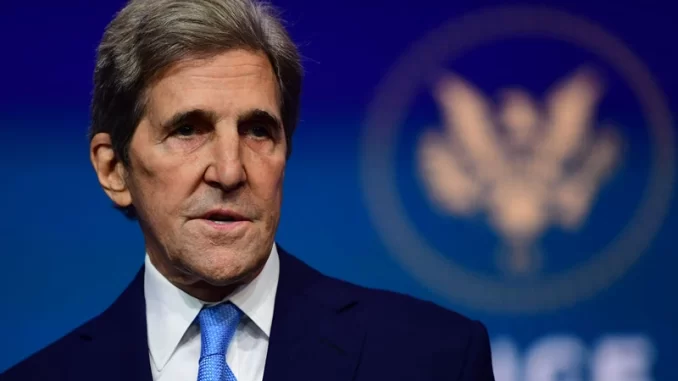 OAN Roy Francis
UPDATED 2:02 PM PT – Thursday, February 2, 2023
House Oversight and Accountability Committee Chairman James Comer is investigating Special Presidential Envoy for Climate (SPEC) John Kerry's secretive negotiations with China.
He was informed in a letter by Comer (R-Ky.) that the committee has opened an investigation into his role with the Biden administration, as well as his high-level climate negotiations with the Chinese Communist Party (CCP) on Thursday.
Kerry has ignored requests from Comer and other Republicans when they were in the minority, but now they have officially requested information and launched an investigation.
"To date, you have failed to respond to any of our requests," Comer wrote to Kerry. "Yet, you continue to engage in activities that could undermine our economic health, skirt congressional authority, and threaten foreign policy under the guise of climate advocacy. The Committee requests documents and information to understand your role and provide necessary transparency over the SPEC and its activities. As a member of the President's cabinet, you should be representing the United States' interests. Your statements, however, consistently show disregard for American national security and taxpayer dollars."
Shortly after taking office in 2021, President Biden had appointed Kerry to be United States' SPEC, a position which was non-existent before that time.
The position is within the State Department and has an annual budget of around $13.9 million. This role gives Kerry a position on the president's cabinet as well as the National Security Council, and allowed him to travel worldwide to meet with high-profile climate candidates.
Kerry's office has been secretive about its operations and staff members, which sparked criticism from the Republicans who have demanded more transparency from the office.
"We are left with an insufficient understanding of your office's activities, spending, and staffing," Comer continued. "To enable long overdue oversight of your office, please provide the following documents and information."
He added that Kerry has been too soft with China's human rights violation.
Kerry has been known for various comments that have seemingly downplayed human rights abuses that are tied to China's green energy supply chain. When asked about the slave labor that was reported in connection with solar panel firms in China, Kerry said that that is not part of his job.
"Well, we're honest about the differences," Kerry said at the time. "We certainly know what they are, and we've articulated them, but that's not my lane here… My job is to be the climate guy and stay focused on trying to move the climate agenda forward."
Since assuming his role, Kerry engaged in multiple private talks with Chinese counterparts, including two meetings in 2021 that took place in China. He had also said that solving climate change was "not about China" although China is the number one emitter, accounting for 27% of the world's emissions.
"This is not about China. This is not a counter to China," he said. "This is about China, the United States, India, Russia… a bunch of countries that are emitting a pretty sizable amount."