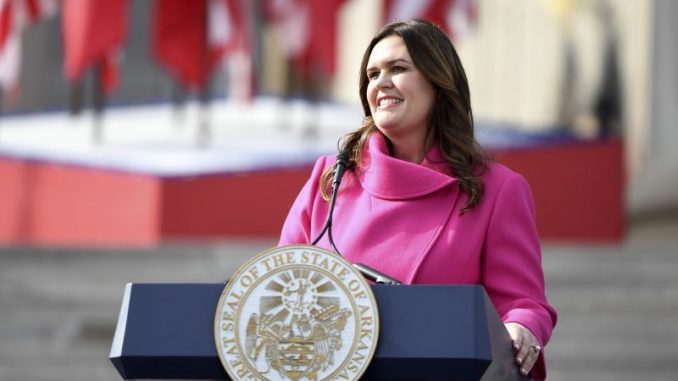 OAN Roy Francis
UPDATED 12:45 PM PT – Thursday, February 2, 2023
Speaker of the House Kevin McCarthy announced on Thursday the person that will be delivering the State of the Union rebuttal on Tuesday February 7th, after the president gives his speech.
Governor Sarah Huckabee Sanders (R-Ark.) has been picked to deliver the remarks. McCarthy said that he is excited to hear the youngest governor in America, as well as the first female governor of Arkansas deliver the rebuttal.
"She is bringing new ideas for a changing future, while also applying the wisdom of the past, including from the leadership of her father," McCarthy said. "She is a servant-leader of true determination and conviction. I'm thrilled Sarah will share her extraordinary story and bold vision for a better America on Tuesday. Everyone, including President Biden, should listen carefully.
Sanders, 40, is the first woman to serve as governor of Arkansas, having been elected in November. She is also as the youngest governor in the country. The Republican is the first daughter to hold the same governorship their father had previously obtained. Mike Huckabee was governor of Arkansas from 1996 until 2007.
During her first week as governor, she has signed executive orders banning critical race theory (CRT) in schools and the term "Latinx" in any government files throughout the state of Arkansas.
"I am grateful for this opportunity to address the nation and contrast the GOP's optimistic vision for the future against the failures of President Biden and the Democrats," she said. "We are ready to begin a new chapter in the story of America – to be written by a new generation of leaders ready to defend our freedom against the radical left and expand access to quality education, jobs, and opportunity for all."
Sanders was former President Donald Trump's longest serving press secretary from 2017-2019. She has retained good relations with the administration after leaving her post. Trump is rumored to be considering her for a vice presidential pick in his 2024 campaign.
The Arkansas governor is expected to deliver the rebuttal from Little Rock, while Representative Juan Ciscomani (R-Ariz.) has been chosen to deliver the response in Spanish.