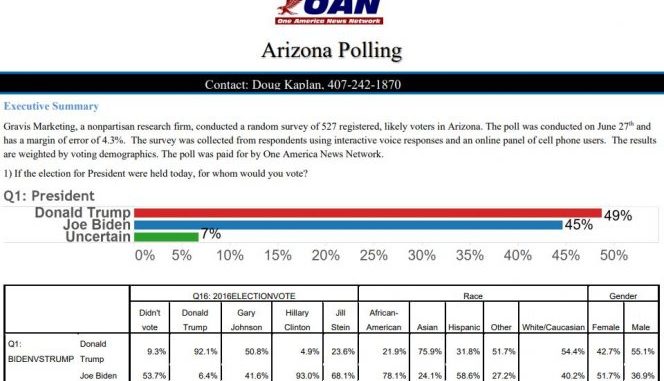 OAN Newsroom
UPDATED 4:40 PM PT — Wednesday, July 1, 2020
The latest joint poll by OAN and Gravis Marketing revealed President Trump is more popular in the Grand Canyon State than some mainstream outlets would like to believe. According to the latest poll, which was conducted on June 27th, the president is leading Joe Biden by 4% in the state.
Those results stood in contrast with reporting by mainstream outlets like Real Clear Politics, which had the president trailing Biden by 6%. Even polls from some major conservative outlets like Fox News showed President Trump losing headway in the battleground state.
However, Sen. John Cornyn (R-Texas) has expressed "in all likelihood," many outlets are "underreporting support for the president like we saw in 2016." Conservatives have pointed to several hypothetical 2016 polls, which showed the president losing to Hillary Clinton in states he ended up going on to win in the last election.
Arizona is regarded as a traditionally Republican state. No Democrat presidential candidate has managed to pull off a win in the state since Bill Clinton in 1996.
Meanwhile, the latest OAN/Gravis poll revealed 52% of Americans either "strongly" or "somewhat" approve of President Trump's job performance. 52% of respondents also said they trust the president more with the economy, opposed to 42% who answered Joe Biden.
The survey also polled Arizonans on how they feel about police. 78% said they support local police and believe police departments should be funded.
See more results from the poll here.