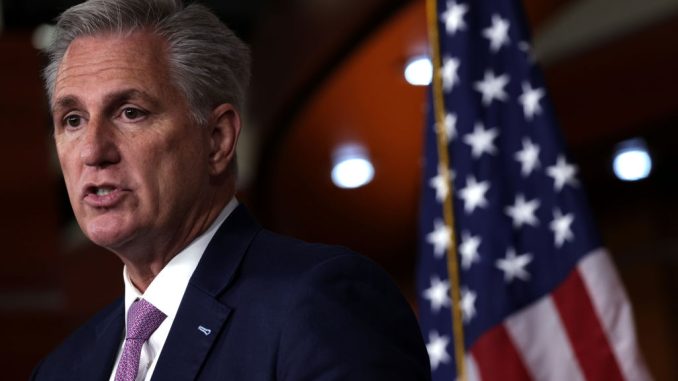 OAN Newsroom
UPDATED 3:30 PM PT – Wednesday, October 6, 2021
House GOP Leader Kevin McCarthy (R-Calif.) said Democrat spending plans would make it pointless for Americans to invest in our children's future. In an interview on Wednesday, the congressman from California said Democrats are proposing a socialistic program to plan out everybody's lives from "cradle to grave."
McCarthy said the multi-trillion spending plan would erode Medicare and Social Security. He also pointed out Joe Biden's nomination of a pro-Soviet scholar, Saule Omarova, as the top banking regulator raises concerns of banking sector stability. McCarthy suggested those initiatives would fail the same way Obamacare did.
"This person wasn't like Bernie Sanders and went to Moscow for his honeymoon, she literally went to school there and got the scholarship, the Linen Scholarship, and did she get indoctrinated in that part? Talk about what she says," McCarthy continued. "She thinks Moscow and Russia is better than capitalism. She thinks it's more equalizing in pay than in America and they want her to be in control?"
McCarthy went on to say Biden is making America less competitive, fueling inflation and increasing the role of government to unprecedented levels.
The truth about Democrats' reckless plan:

They want to raise your taxes.
They want the IRS to spy on your bank accounts.
They want the federal government in charge of your kids' classrooms.

It's clear: Democrats just want control. pic.twitter.com/qMt6VvqHEU

— Kevin McCarthy (@GOPLeader) October 6, 2021