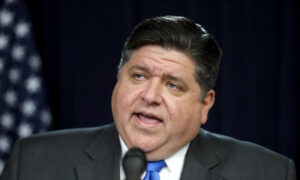 Illinois Gov. J.B. Pritzker on Monday authorized the deployment of the Illinois National Guard to Chicago ahead of the verdict in the trial of former Minneapolis police officer Derek Chauvin, who faces second-degree murder and other charges over the May 2020 death of George Floyd.
Following a request made by Mayor Lori Lightfoot "out of an abundance of caution," the Democratic governor said 125 troops would be deployed to assist Chicago law enforcement starting Tuesday.
Pritzker's office said in a statement that their "limited mission" would include assisting with managing street closures during potential demonstrations.
It comes as the nation braces for potential civil unrest over the verdict, which is expected in the coming days.
Several Black Lives Matter supporters have suggested that if Chauvin isn't found guilty, there will be further riots and violence.
Alongside peaceful protests, the death of Floyd—an African American man who died while in Minneapolis police custody—also sparked riots, arson incidents, vandalism, and looting nationwide last summer, leading to tens of millions of dollars in property damage.
"It is critical that those who wish to peacefully protest against the systemic racism and injustice that holds back too many of our communities continue to be able to do so," the Illinois governor said in a statement. "Members of the Guard and the Illinois State Police will support the City of Chicago's efforts to protect the rights of peaceful protestors and keep our families safe."
The state of Chicago has recently seen several days of largely peaceful protests and vigils following the fatal police shooting of Adam Toledo, a 13-year-old who was shot by an officer on March 29 after evading the police.
Body-worn camera footage released by Chicago police shows officer Eric Stillman shouting "drop it" before shooting Toledo in the chest. The teenager doesn't appear to be holding a gun in the split second he is shot by the officer, but the body cam footage shows that the officer found a handgun on the ground near the spot where Toledo fell.
A police union official in Minnesota has said Daunte Wright would still be alive he had complied with orders while a union official in Illinois called the fatal shooting of Toledo "justified" defensive action by police.
"The Illinois National Guard … will not interfere with peaceful protestors exercising their First Amendment rights, much the same role as Guard members played in previous deployments," Pritzker's office said in a statement.
According to the statement, the troops are from the the 33rd Military Police Battalion and are trained specifically in riot control operations.
The Illinois State Police will also assist the Chicago Police Department with additional troopers, Pritzker said.
Chauvin, 45, has been charged with second-degree murder, third-degree murder, and second-degree manslaughter in Floyd's death. Jurors could decide to convict him on all counts, convict him on one or two counts, or completely acquit him.
The jury is being sequestered for the first time as they consider the three charges. There is no minimum or maximum time for announcing a verdict.
Zachary Stieber contributed to this report.