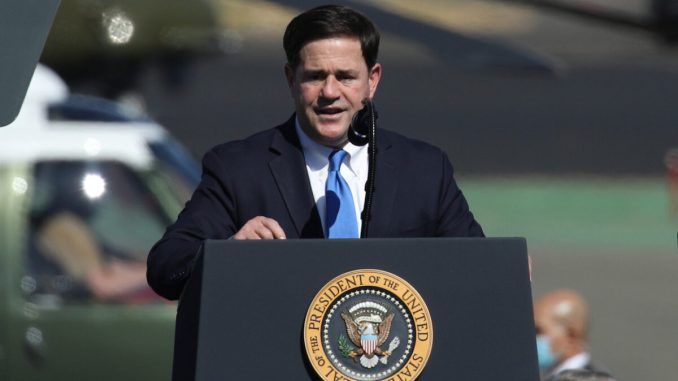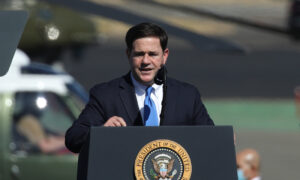 Arizona Governor Doug Ducey issued an executive order on Monday that bars the state and local governments from requiring that residents show COVID-19 "vaccine passports" to enter an area or receive a service.
"The residents of our state should not be required by the government to share their private medical information," the Republican governor said in a statement. "While we strongly recommend all Arizonans get the COVID-19 vaccine, it's not mandated in our state—and it never will be. Vaccination is up to each individual, not the government."
The executive order (pdf) stipulates that state and local governments cannot require a person to provide documentation of their vaccination status for COVID-19 as a condition to to enter an area or to receive a government service, permit, or licence.
COVID-19 is the disease caused by the CCP (Chinese Communist Party) virus, also known as the novel coronavirus.
The order does not affect private businesses, which can still require vaccination documentation as a condition for entry or service. It also does not prevent health care and long term care institutions from requiring COVID-19 vaccination status of a patient, resident, employee, or visitor.
Arizona law will still allow schools, child care centers, and universities to require vaccination documentation if they wish.
Several Republican governors have issued orders banning vaccine passports, including Florida Gov. Ron DeSantis, Texas Gov. Greg Abbott, Georgia Gov. Brian Kemp, and Montana Gov. Greg Gianforte. In Tennessee, the state senate passed a bill last week seeking a ban on vaccine passports.
Almost 2 million Arizona residents have been fully vaccinated against the COVID-19 to-date. There are six state-run vaccination sites in Arizona, with another one coming this month.
"Appointments to get the vaccine will continue to be available to everyone who wants it, especially for underserved and vulnerable communities," Ducey said. "Statewide, more than 20,000 vaccination appointments are available, including more than 5,000 in Tucson alone."
"I'm grateful to the medical professionals, health care staff and selfless volunteers who are rapidly vaccinating Arizonans and protecting the health of our state," he added.
Ducey's announcement comes on the same day as a World Health Organization (WHO) panel recommended against requiring proof of COVID-19 vaccination status to be able to travel to other countries.
The WHO's Emergency Committee said in its recommendation, "Do not require proof of vaccination as a condition of entry, given the limited (although growing) evidence about the performance of vaccines in reducing transmission and the persistent inequity in the global vaccine distribution.
"States Parties are strongly encouraged to acknowledge the potential for requirements of proof of vaccination to deepen inequities and promote differential freedom of movement."
Meanwhile, several areas in the United States, including New York state and California's Orange County, have launched applications that serve as a passport that records a person's vaccination status.