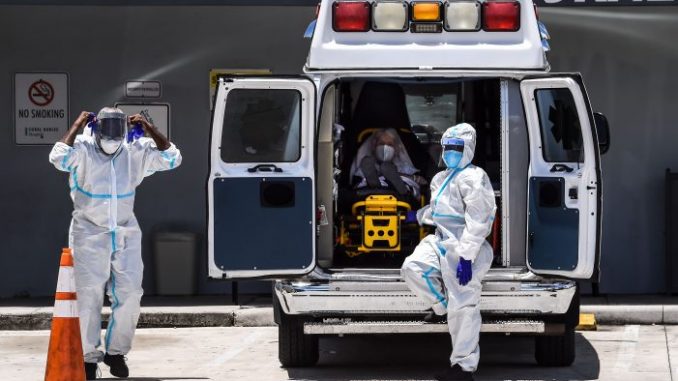 OAN Newsroom
UPDATED 6:49 PM PT – Sunday, August 29, 2021
14 portable morgues have headed to Central Florida to assist hospitals dealing an unprecedented number of coronavirus deaths. A recent email from Advent Health explained their hospital morgues in Central Florida had reached full capacity and rented coolers at 10 campuses were also filling up quick.
"The number of cases in Florida are at record numbers," stated Orange County Mayor Jerry Demings (D). "New cases of individuals testing positive as well as new cases of individuals dying in our state."
About 1,380 patients are hospitalized with COVID-19 across AdventHealth's Central Florida hospitals, a drop from last week that appears to signal the start of a decline from the unprecedented Delta surge that began in July. Read more: https://t.co/Vq6CSfS8mg pic.twitter.com/ZLlDOxIQn0

— AdventHealth Central Florida (@AdventHealthCFL) August 27, 2021
Advent Health said they believed the backup was due to a slowdown at local funeral homes. The Central Florida Disaster Medical Coalition stepped in by providing 14 federally funded portable coolers to hospitals, three of which to Advent Health.
"The hospitals are the ones who chose what we purchased. They looked at all the different options available. It's not just the hospitals, the backup, it's from the funeral homes and the crematoriums," explained Lynn Drawdy of Central Florida Disaster Medical Coalition. "So, they have to have this space to keep these bodies cool until they can move on to their final disposition. "
Officials told the Orlando Sentinel hospitals have said the death count was higher than it has ever been as the state reported more than 1,700 coronavirus deaths in the past week. Meanwhile, the portable morgues would be distributed to nine area hospitals and are expected to arrive by Monday.