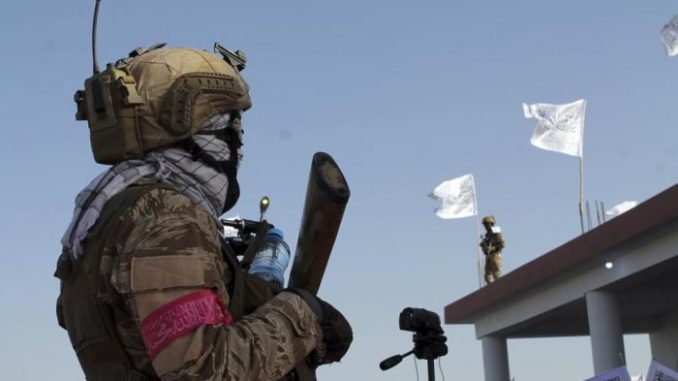 OAN Newsroom
UPDATED 8:13 PM PT – Sunday, August 29, 2021
Top officials within Joe Biden's national security apparatus said the next few days would be critical in efforts to fully pull out of Afghanistan. During an interview on Sunday, U.S. Secretary of State Antony Blinken warned of imminent attacks leading up to Biden's deadline to retreat of August 31.
"When it comes to the risk going forward for the next couple of days, the president is exactly right. This is very high risk and as he said, there is a high likelihood of additional attacks between now and the 31st," he explained. "…This is the most dangerous time in an already extraordinarily dangerous mission, this last couple of days. We will do everything possible to keep people safe."
Blinken went on to say when the U.S. did finally withdraw, there likely won't be an on the ground presence of U.S. troops. However, the top U.S. diplomat assured the State Department would continue to get all remaining Americans out of the country who wanted to leave.
Today, nearly 100 countries issued a joint statement on the assurances by the Taliban that all foreign nationals and any Afghan citizen with travel authorization from our countries will be allowed to safely travel outside Afghanistan. We will hold the Taliban to that commitment. https://t.co/nZtyWPHsJu

— Secretary Antony Blinken (@SecBlinken) August 29, 2021
In addition, White House National Security Adviser Jake Sullivan detailed a relationship with Afghanistan beyond the military surrender to the Taliban. Sullivan claimed the Biden administration had enough economic leverage to force the Taliban to let U.S. troops continue safe evacuation efforts.
Sullivan added once all Americans and allies were safely out of Afghanistan, America would be able to monitor the country from outside its borders as the national security apparatus have done on other countries.
"What we have proven over time in other countries is that we are capable of suppressing the terrorism threat, including external plotting capabilities without a large permanent presence on the ground," he mentioned. "We have done that in places like Libya and Somalia, places like Yemen, and we will do that in Afghanistan as well as we go forward."
However, critics have sung a different tune regarding the Biden administration's handling of the crisis. GOP Rep. Peter Meijer (Mich.) and Democrat Rep. Seth Moulton (Mass.) reported back on their trip to Afghanistan this week. The veterans claimed Biden's decisions have put extreme stress on U.S. troops and diplomats on the ground.
Today with @RepMeijer I visited Kabul airport to conduct oversight on the evacuation.

Witnessing our young Marines and soldiers at the gates, navigating a confluence of humanity as raw and visceral as the world has ever seen, was indescribable. pic.twitter.com/bWGQh1iw2c

— Seth Moulton (@sethmoulton) August 25, 2021
The pair praised the efforts of U.S. forces to get Americans out of the country safely, but said a lack of leadership from officials in Washington made it hard to see the value of the 20 year war.
"If you draw this over the past two decades, at any one year you could say what is our mission there and you would get a different answer from the other 19. There needs to be unsparing accountability," Meijer asserted. "We should have never put our American men and women in this position and we need to realign our strategic and operational priorities to ensure that it never happens again. This is a failure upon failure."
South Carolina Sen. Lindsey Graham (R) echoed concerns about the future implications of America's retreat. He said the withdraw empowered terrorists in the country and predicted a massive attack on U.S. soil was imminent.
"The chance of another 9/11 just went through the roof. These drone attacks will not degrade ISIS. The number of ISIS fighters have doubled," he stated. "For the next 20 years, American presidents will be dealing with this catastrophe in Afghanistan. This war has not ended. We've entered into a new deadly chapter. Terrorists are now in charge of Afghanistan."
Graham added Biden turned his back to our allies in Afghanistan and warned it could shatter our diplomatic relations with other allies.