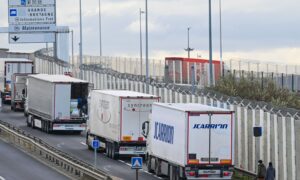 UK authorities on Wednesday arrested two suspected leading figures in people smuggling networks thought to be behind the movements of hundreds of migrants both into and out of the country.
The two men, aged 52 and 28, were detained in early morning raids in Woodford Green and Bushwood, east London, the National Crime Agency (NCA) said.
Another five people, all licenced mini-cab drivers, were also arrested in various locations around east London. They are accused of being involved in transporting migrants to or from lorry pick-up and drop-off points.
Officers also detained 11 suspected migrants in a safe house in Mile End, which had been converted to accommodate at least 19 people.
Home Secretary Priti Patel, who accompanied NCA officers on the operation, said: "This is a significant win for UK law enforcement. The arrests secured by the NCA have broken up a callous criminal gang and put vile people smugglers behind bars.
"These criminal gangs don't care for the people they traffic. They're treating innocent lives as a commodity and lining their pockets while people are dying.
"That is why I am delivering our New Plan for Immigration to break the business model of the people smugglers and protect the lives of those they endanger."
Wednesday's operation, which involved more than 130 officers, followed a lengthy investigation codenamed Operation Symbolry.
The operation identified an organised crime group with connections in both Europe and Asia, using a network of predominately Romanian lorries to move migrants across the English Channel from France into Kent, or the other way round.
As part of Operation Symbolry, seven people, including six lorry drivers, have been arrested and charged with people smuggling offences, five of whom have been convicted.
They include Romanian national Marius Halmaghe, 36, who was stopped on the A2 in Kent on Oct. 1, 2020, with four migrants discovered by police. He was sentenced to 31 months in prison.
Alexandru Fuiorea, 29, was arrested on Oct. 4, 2020, after he was stopped on the M2 with 18 migrants hidden in the rear of his truck. Fuiorea was jailed for three years and eight months.
Turkish lorry driver Hakan Zengin, 36, was arrested on March 21, 2021, on the M25 and found with seventeen migrants in his lorry.
In total, Operation Symbolry has led to the interception of more than 100 migrants. But it is just one of many ongoing NCA operations against people smuggling.
Chris Farrimond, Deputy Director of Investigations, said the NCA has around 50 ongoing investigations into human trafficking gangs.