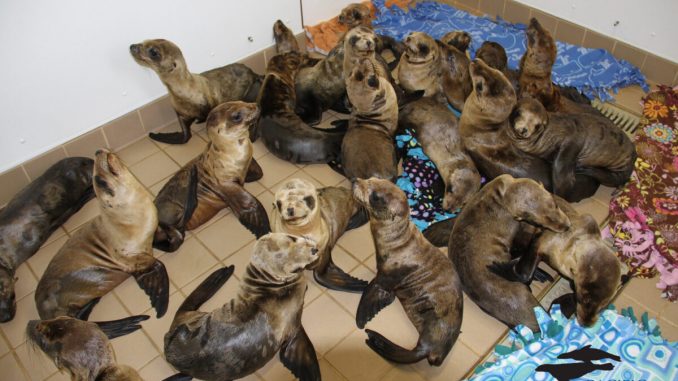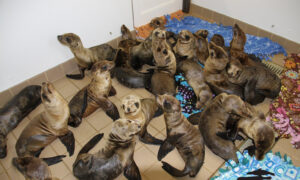 From a small three-person rescue team, rehabilitating seals in a bathtub to a leader in marine mammal rescue and rehabilitation, scientific hub and education center, the Pacific Marine Mammal Center is this month celebrating its 50th anniversary.
"In 1971, Jim Stauffer, Dr. Rose Ekeberg, and I started a small group known as the Friends of the Sea Lions," John Cunningham said in a press release. "With the help of a handful of Laguna Beach high school students, our mission was to rescue, rehabilitate and release sick and injured seals and sea lions along the Orange County coast."
"Today, 50 years later, I am so proud to still be a part of what's become a world-class non-profit now known as the Pacific Marine Mammal Center."
The Pacific Marine Mammal Center is celebrating its anniversary with 50 Days of Giveaways in June. Supporters can follow Pacific Marine Mammal Center on social media or register online. The center is also holding an anniversary gala Nov. 7 at the Festival of Arts grounds in Laguna Beach.
Pacific Marine Mammal Center spokesperson Krysta Higuchi told The Epoch Times that the center has had a lot of special cases this past year, many due to entanglement in fishing line, trash and other hazards to sea life like face masks. After a year of pandemic shutdowns and operational restrictions, it seems fundraising efforts are more important than ever.
Humble Beginnings
Founded prior to the Marine Mammal Protection act of 1972, the Pacific Marine Mammal Center was the first rehabilitation facility in California of its kind, but it began as the Friends of the Sea Lion in 1971 with three volunteers.
As the story goes, in spring of 1971, a young girl approached Newport Beach lifeguard Jim Stauffer and told him she had just seen a seal on the beach and she thought it looked like it was in distress.
Stauffer immediately went to investigate in his lifeguard jeep and soon came upon a young Pacific harbor seal.
When he attempted to put the seal in the back of his jeep it would leap right out so after a few tries, Stauffer gave up thinking it must be healthy and just needed to rest, he reluctantly returned to his post.
Later, after his concern for the pup nagged at him all day, Stauffer went back to check the small sea.
This time he picked it up and it didn't resist so he took the animal to the Dover Shores Animal Hospital where it was found to have lungworms.
With advice from the vet, Stauffer nursed the harbor seal back to health and released him back into the ocean after a full recovery.
News of Stauffer's success with the pup spread and soon lifeguards were contacting him whenever they found a sick or injured seal or sea lion on the beach.
Within only a few weeks, Stauffer was caring for a California sea lion. Another lifeguard, John Cunningham, began helping.
During the school year, Cunningham taught at Laguna Beach High School and in 1972 developed a marine science class with a requirement for students to volunteer what was now being called the Pacific Marine Mammal Center.
Dr. Rose Ekeberg of Laguna Canyon Animal Hospital provided medicine and medical advice to Stauffer and Cunningham and housed some of the animals at her clinic, and they began the tradition of giving each animal its own name.
The Department of Fish and Game issued is first permit of its kind in California and Stauffer was allowed to temporarily house seals and lions at his home. The organization grew quickly, and a facility bigger than Stauffer's home and pool became necessary.
At that time the local SPCA was using a barn owned by the City of Laguna Beach, and when they relocated in 1976, the city offered Stauffer the building as a home for Pacific Marine Mammal Center.
With the help of volunteers, they renovated the barn that still functions today as the center's rehabilitation hub.
"I'm so proud to continue to see the community get behind this important mission," said co-founder Jim Stauffer. "It's been great all these years to watch it grow all for the benefit of these precious marine mammals."
To date, Pacific Marine Mammal Center has rescued more than 10,000 federally protected marine mammal species. Annually, the center educates tens of thousands of students and hosts up to 50,000 patrons at its visitor center in Laguna Beach.
The majority of patients at the center are pups under a year old who are stranded in the springtime on Orange County beaches, suffering from dehydration and malnutrition.
The center is also hosting a Summer Fish Drive Kickoff on June 4 to celebrate its anniversary.
Fish drive ticketholders will get a rare behind the scenes tour of the animal hospital and meet some of the current recovering patients. The event will feature live music, a meal by California Love Drop, and a goodie bag.
To allow for social distancing, 20 fish drive guests per hour will be admitted to the event and all attendees will be entered to win a semi-private boat ride to experience the release back to the wild of a center patient.