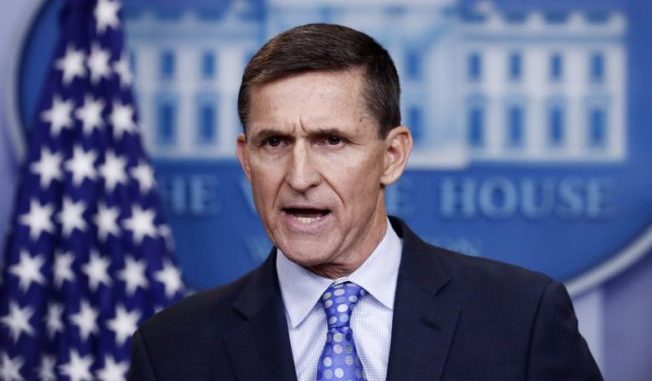 OAN Newsroom
UPDATED 12:45 PM PT — Thursday, April 30, 2020
President Trump has responded to new evidence brought to light involving General Michael Flynn. On Thursday, the president claimed Flynn was a victim of "dirty, filthy" police work and that the new evidence suggests "total exoneration."
"He's in the process of being exonerated," he said. "If you look at those notes from yesterday, that was total exoneration."
He added the general is a fine man who was tormented and treated like nobody should be.
"Right at the beginning of the administration, the dirty cops came in," stated President Trump. "They were out to get him, this is terrible."
President @realDonaldTrump to CNN "reporter" Jim @Acosta: CNN tormented @GenFlynn, "I hope to see that CNN will — not even apologize, which they should — but just cover it fairly." pic.twitter.com/FGJcCeAJp5

— Team Trump (Text TRUMP to 88022) (@TeamTrump) April 30, 2020
His remarks referred to newly unsealed documents, which showed possible FBI misconduct during their interrogation of General Flynn during the Russia probe.
BREAKING: Unsealed documents show top FBI officials discussing their motivations for interviewing then-NSA Michael Flynn in the White House in January 2017:

"What is our goal? Truth/Admission or to get him to lie, so we can prosecute [Flynn] or get him fired?" pic.twitter.com/8D1S1ifGn0

— Alex Salvi (@alexsalvinews) April 30, 2020
Moving forward, the president has said he's sure the former national security adviser will come back "bigger and better" than ever before.
President Trump also noted the double standard employed by Democrats regarding Roger Stone. He tweeted, "Does anybody really believe that Stone, a man whose house was raided by 29 gun toting FBI agents with fake news CNN closely in toe, was treated fairly?"
He also slammed "the jury forewoman" in Stone's trial for "her unannounced hatred and bias" against the administration. According to the president, these were the "same scammers" who targeted General Michael Flynn.
Does anybody really believe that Roger Stone, a man whose house was raided early in the morning by 29 gun toting FBI Agents (with Fake News @CNN closely in toe), was treated fairly. How about the jury forewoman with her unannounced hatred & bias. Same scammers as General Flynn!

— Donald J. Trump (@realDonaldTrump) April 30, 2020
Lawyers for Roger Stone are planning to appeal his sentencing. On Thursday, Stone's legal team announced they intend to appeal a judge's decision to deny the former adviser a new trial.
They argued one of the jurors was biased, based on political beliefs she expressed on social media during the trial, and contend that bias tainted the jury.
The president has also suggested he may issue a pardon for Stone.