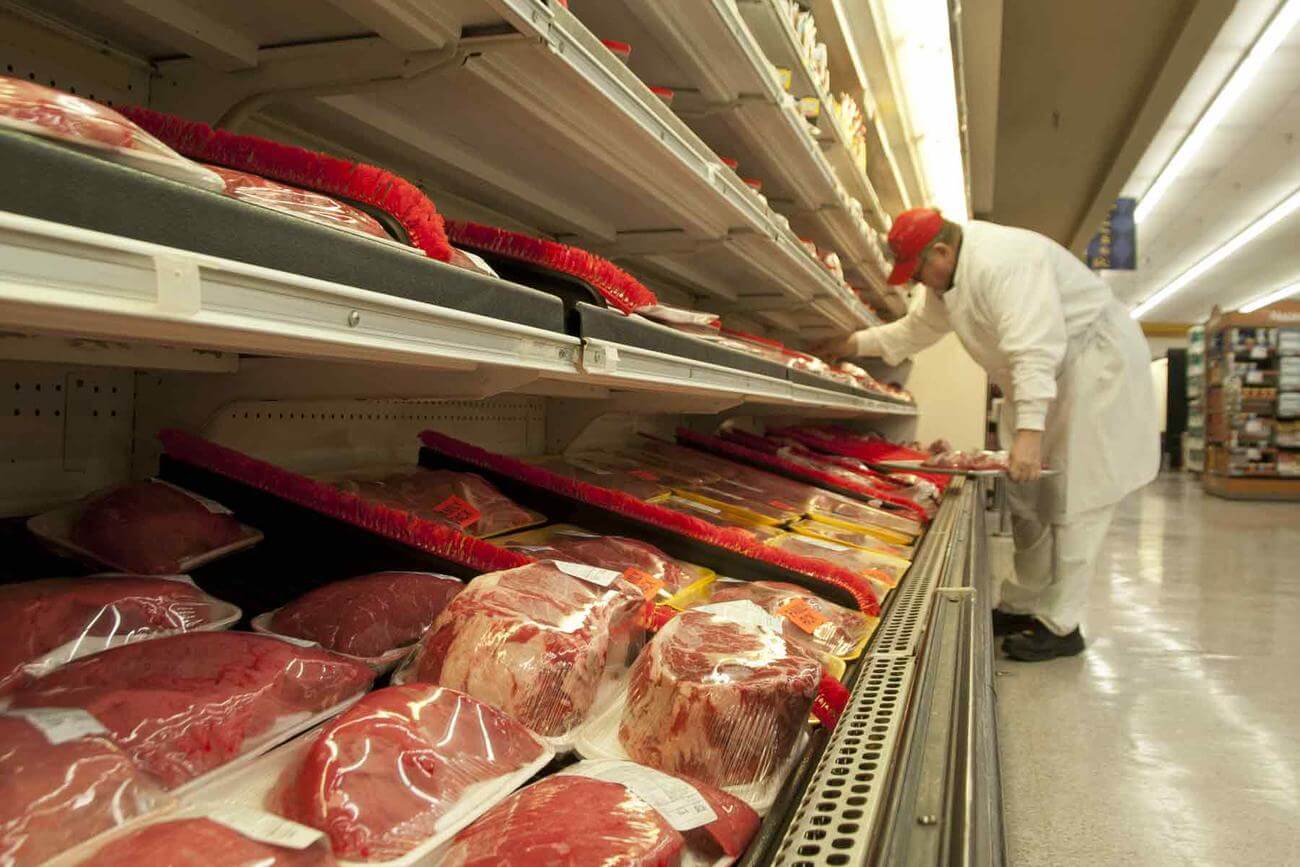 Citing supply chain strains and anticipated shortages as a result of the novel coronavirus pandemic, the agency that manages military commissaries says some stores will start limiting how much fresh meat customers can purchase.
Starting May 1, commissaries within the 50 states and in Puerto Rico will limit purchases of fresh beef, poultry and pork, the Defense Commissary Agency announced Thursday evening. For fresh beef, pork, chicken and turkey, customers will be limited to purchasing two items per visit, according to the announcement.
"There may be some shortages of fresh protein products in the coming weeks," Robert Bianchi, a retired Navy rear admiral and the Defense Department's special assistant for commissary operations, said in a statement. "Enacting this policy now will help ensure that all of our customers have an opportunity to purchase these products on an equitable basis."
Military commissaries, located on military bases around the world, operate on a nonprofit basis and offer food items at cost. Considered a military benefit, they are open to active-duty troops, dependents, retirees and some other special veteran categories.
Related: Millions More Vets and Caregivers About to Get Commissary, Exchange Access
Individual stores will have the ability to increase or decrease limits based on their inventory, DeCA officials added in the release. Some commissaries have already been posting quantity limits on high-demand items, such as toilet paper and hand sanitizer.
The move to limit meat purchases is a troubling one that comes on the heels of an announcement from Tyson Foods, one of the largest meat-processing companies in the nation, that it was being forced to close down plants due to the virus. Eventually, the company warned, the closures would lead to shortages in stores.
"The food supply chain is breaking," company chairman John Tyson said in a full-page ad that appeared in the New York Times April 26.
On Tuesday, President Donald Trump issued an executive order ordering Secretary of Agriculture Sonny Perdue to "take all appropriate action under that section to ensure that meat and poultry processors continue operations," calling the plants "critical infrastructure for the nation.
To that end, the administration will purchase $3 billion in excess dairy, produce and meat "to be distributed in order to assist Americans in need as well as producers with lost markets," the White House said in an announcement accompanying the order.
In DeCA's Thursday announcement, Bianchi said the supply chain for commissaries overseas remained strong.
"In addition, we continue to prioritize quantities for our overseas shipments, so we should be able to support the demand," he said. "If we experience any unexpected major hiccups in the pipeline, we will look at expanding shopping limits to other locations."
The release noted that purchase limits were also intended to head off the phenomenon of panic buying, which has led to bare shelves in supermarkets all over the country. As demand spiked, DeCA issued a March 14 directive allowing store managers to implement shopping limits as they saw fit to maintain stock availability. That directive remains in effect.
"We know this is a potentially stressful time for all concerned," Bianchi said. "But together we will meet these challenges and support our service members and their families throughout the duration of this crisis wherever necessary."
— Hope Hodge Seck can be reached at hope.seck@military.com. Follow her on Twitter at @HopeSeck.
Read More: In First, DoD Awards Massive $7.2 Billion Contract to Single Company for PCS Moves
© Copyright 2020 Military.com. All rights reserved. This material may not be published, broadcast, rewritten or redistributed.