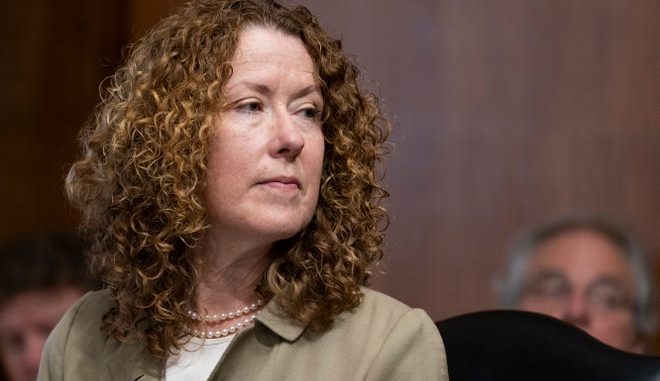 OAN Newsroom
UPDATED 12:20 PM PT – Friday, July 23, 2021
Republican Sen. James Risch (Idaho) teared into Joe Biden's controversial Land Management nominee Tracy Stone-Manning amid the advancement of her nomination. On Thursday, the Senate Energy and Natural Resources Committee voted 10-10 on Stone-Manning's nomination, which pushed the decision to the full Senate floor.
Republicans argued her connection to a dangerous and illegal tree spiking scheme in the early nineties should have disqualified her from leading the Bureau of Land and Management. They insisted her nomination was an insult to the agency.
"This is a knowing, willful, intentional act done with a black, abandoned, and malignant heart, intended to kill a fellow human being. This is not a mistake," Risch asserted. "This is an intentional act for which people are sent to prison and should be."
If the Biden administration wants to have the face & the character of this administration represented by perjury, lying & conspiracy, they can confirm Tracy Stone-Manning, but she would be a stain on the administration. pic.twitter.com/FdUGoVh06Q

— Jim Risch (@SenatorRisch) July 22, 2021
The Idaho senator went on to highlight Stone-Manning's involvement to tree spiking by saying she lied to the committee about collaborating with ecoterrorists and should be faced with legal consequences.
"You know, I've prosecuted I don't know how many cases. This for a prosecutor is shooting fish in a barrel," he explained. "She shouldn't be in front of this committee for confirmation to a major, major point in this administration. She should be in front of a jury explaining to them why she committed perjury and why she lied to Congress."
Republicans also accused Democrats of playing politics by suggesting a majority of Americans would find her extremist viewpoints reprehensible. They added the nomination of Stone-Manning reflected the character of the Democrat party.
Putting the tree-spiking ecoterrorist Tracy Stone-Manning in charge of the Bureau of Land Management is like putting an arsonist in charge of the fire department.

She should be rejected.

— Tom Cotton (@TomCottonAR) July 22, 2021
"…If the Biden administration wants to have the face and the character of their administration represented by this individual, this attempted murderer, this perjurer, this liar, this conspirator," Risch expressed. "If that's what you want in the administration and that's what you want for the face of the administration, here's your person, confirm her."
Meanwhile, Pennsylvania Sen. John Barrasso (R-Wyo.) said earlier this week all 50 senate Republicans will strongly oppose the nomination when it reaches the full Senate. However, Democrats believe they have the support to confirm Stone-Manning with Kamala Harris breaking a 50-50 tie.