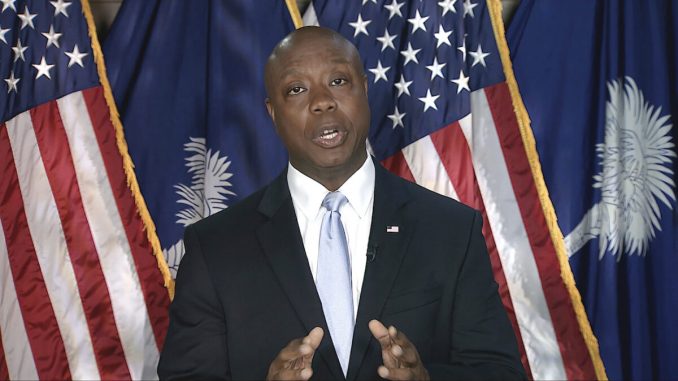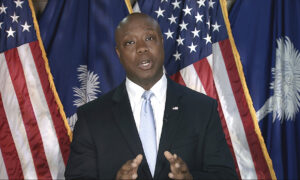 Sen. Tim Scott (R-S.C.) expressed disappointment in how some social media users reacted to his GOP rebuttal speech after President Joe Biden's address to Congress, as Twitter eventually removed a pejorative—"Uncle Tim"—after it remained on its trending page for several hours.
"Intolerance so often comes from the left with words like 'Uncle Tim' and the n-word being used against me," Scott told Fox News on Thursday. "And last night what was trending in social media was 'Uncle Tim,' and they doubled down on this concept of liberal oppression. It is stunning in 2021 that those who speak about ending discrimination want to end it by more discrimination."
Scott added: "They have doubled down that they are going to not attack my policies but they are literally attacking the color of my skin. You cannot step out of your lane according to the liberal elite left."
A number of verified Twitter users, including former MSNBC host Toure Neblett, used the "Uncle Tim" epithet, referring to "Uncle Tom," which comes from the 1852 novel "Uncle Tom's Cabin" by Harriet Beecher Stowe. It came as Scott delivered his remarks in response to President Joe Biden's address to Congress.
The term trended on the website for several hours before a Twitter spokesperson confirmed it was taken down.
"This is in line with our policies on Trends, specifically: 'We want Trends to promote healthy conversations on Twitter. This means that at times, we may not allow or may temporarily prevent content from appearing in Trends until more context is available. This includes Trends that violate The Twitter Rules,'" a Twitter spokesperson told news outlets Thursday.
It's not clear if any tweets using the term will be deleted or if any accounts will be suspended.
Last week, The Washington Post drew ire after it published an article that attempted to find falsehoods about his family history.
"[The writer], for some reason, thought that an African-American man born in 1921 would never have picked cotton, that the fact that his grandfather owned land meant that we were privileged. Why my mother grew up on the projects, in public housing, with all that privilege, I have no idea," Scott told Fox News later in the interview.
"But here's what he was really trying to do: He was trying to discredit my story. He was trying to discredit my grandfather, and my mother, and myself for one reason: because it doesn't fit the narrative that in America, it's impossible for people who look like me to rise to this position."