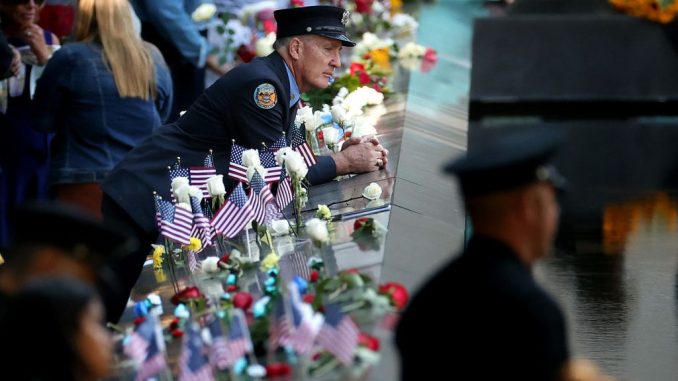 OAN Newsroom
UPDATED 8:01 PM PT – Saturday, September 11, 2021
Thousands came together in New York City and across the nation as the U.S. paid tribute to those who lost their lives on Sept. 11, 2001. Ceremonies were held all across New York City, Shanksville, Pennsylvania and at the Pentagon as the nation vows to never forget 9/11.
Survivors, first responders, politicians including Joe Biden and former Presidents Barack Obama and Bill Clinton, and hundreds of others gathered where the Twin Towers once stood on Saturday morning. Families read the names of the nearly 3,000 lives lost as they clutched onto photos of their loved ones who perished on that tragic day.
Several moments of silence were held at Ground Zero throughout the morning, the sixth and final moment marking when the North Tower collapsed.
"You see the family members who really bear the brunt of the loss and kids who didn't know their parents. It's horrible. But the most important thing, I think for everybody, not just firemen, is never forget," said one firefighter, Joe Castellano. "Never forget who did this, why they did it, and never forget America and what we stand for."
Meanwhile, President Trump opted not to participate in the official ceremony, instead making a surprise visit to New York City's police officers and firefighters. Trump noted how the bravery of police, firefighters and first responders were on display that fateful day.
"Incredible job you do. You do. I grew up with you and you are New York's finest. You're incredible people," stated the 45th president.
Also speaking, former President Bush took the podium during a ceremony in Shanksville, emphasizing the unity America demonstrated 20 years ago.
"We saw that Americans were vulnerable, but not fragile. That they possess a core strength that survives the worst that life can bring," said Bush to the crowd. "We learned that bravery is more common than we imagined, emerging with sudden splendor in the face of death."