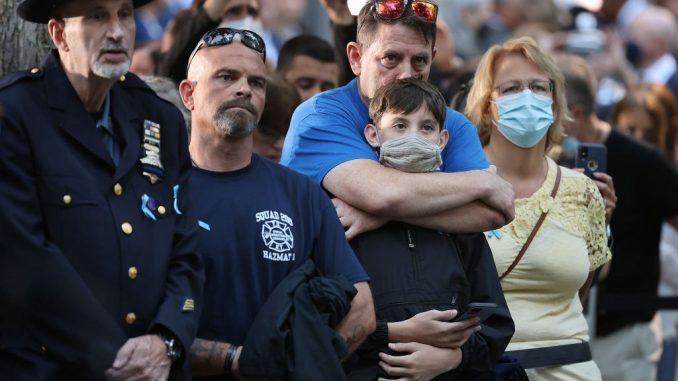 OAN Newsroom
UPDATED 7:37 PM PT – Saturday, September 11, 2021
Nearly 20 years later, relatives of the victims from Flight 93 gathered at the Flight 93 National Memorial to remember those they had lost on Sept. 11, 2001. During the private ceremony on Saturday, the names of the 40 passengers and crew members were read aloud. After each name was read, a bell was rung in their memory.
Four commercial airplanes were meant to hit the hijacker's intended targets on Sept. 11,  2001., however one plane, Flight 93, was diverted. The plane's passengers and crew reportedly tried to regain control of the plane from the hijackers, where it crashed outside of Shanksville, Pennsylvania missing what has been presumed to be its intended target, the U.S. Capitol.
The Families of Flight 93 organization President Gordon Felt lost his brother on the flight.
"For those that lost loved ones in the terrorist attacks in our country 20 years ago today, you know that we can never move on, but that we must continue to move forward," said Felt to the crowd.
The park opened in the early afternoon to the public where reports said thousands came to the site. Calvin Wilson, who lost his brother-in-law Leroy Homer, a co-pilot on Flight 93, said both the ceremony and the memorial gives him the "opportunity to reflect."
"We don't focus on the damage. We don't focus on hate, you know, we don't focus on retaliation. We don't focus on revenge," said Wilson. "We focus on the good that was that he did the good that all of our loved ones have done and we come here and this is definitely a physical manifestation of them."
At the memorial, Joe Biden placed a wreath at the Wall of Names where all the names of those who died from the flight are written in marble.
Stephen Clark, superintendent of the National Parks of Western Pennsylvania, addressed the crowd stating, "when the events of September 11 have passed from living memory, this memorial, created through tireless sacrifice of so many, will allow future generations to remember the inspiring story of Flight 93."