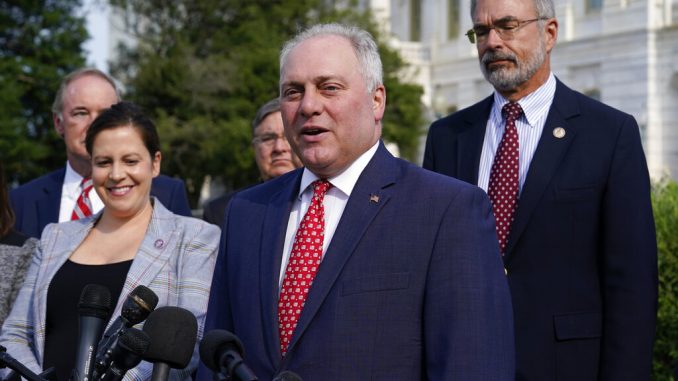 OAN Newsroom
UPDATED 7:39 AM PT – Friday, July 23, 2021
Republicans on Capitol Hill are demanding answers from House Democrats after they blocked a bill to declassify information about the origins of the coronavirus. During a press conference on Thursday, House Minority Whip Steve Scalise (R-La.) questioned why Democrat leadership is refusing to move forward with a formal investigation into who created the virus.
"If we're ever going to be able to get through this and especially to prevent something like this from happening again, we need to at least find out how it really did happen," stated the Louisiana lawmaker. "And while Speaker (Nancy) Pelosi refuses to investigate this, many of us have taken action on our own to start digging in to the facts to try to get the facts as best we can."
Scalise also pointed out how Chinese official's have refused to cooperate with an investigation while noting the communist country has yet to release its findings on the virus.
"We know that the Chinese Communist Party won't release the background, the data, the facts; won't let us talk to those people that worked in that Wuhan lab," continued the House Minority Whip. "Was there American tax dollars that went directly or indirectly to the Wuhan lab to perform gain of function research? A lot of evidence indicates there was. All of these questions deserve answers."
House GOP conference chair Elise Stefanik (R-N.Y.) then asked why the left is "stonewalling efforts made by Republicans" in order for the truth to be revealed.
"The question is why are Democrats stonewalling our efforts to uncover the origin of the COVID virus? Why are Democrats not investigating the growing list of evidence that leads us directly to the Chinese Communist Party and their cover up?" she asked. "And why is this administration refusing to hold China accountable?"
Stefanik went on to say Republican members will continue to work to demand answers, demand accountability and demand transparency for the American people. Meanwhile, Democrats have yet to explain why they voted to continue to cover-up China's role in unleashing a global pandemic.