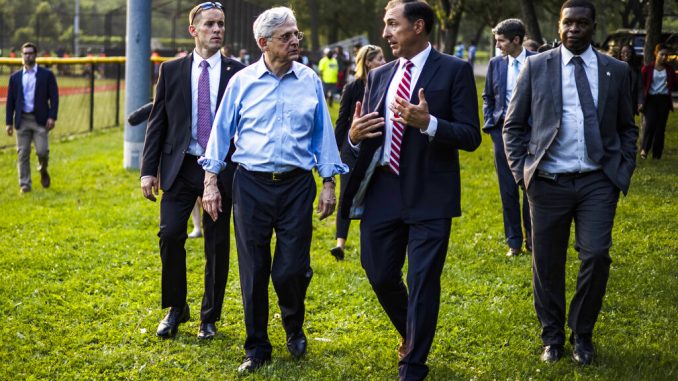 OAN Newsroom
UPDATED 7:54 AM PT – Friday, July 23, 2021
U.S. Attorney General Merrick Garland said his new Justice Department is focusing on five American cities to tackle illegal gun trafficking. On Thursday, while in Chicago, the official announced he's sending gun trafficking strike forces to the Democrat-led cities of Chicago, Los Angeles, New York City, San Francisco and Washington D.C.
In a statement, the attorney general noted, "all too often guns found at crime scenes come from hundreds or thousands of miles away." The strike forces represent a bolstering of federal and local law enforcement seeking to disrupt the flow of unlawfully obtained firearms to the places they are ultimately used to commit crimes.
"We are going to try to focus as much of our attention on these problems, not only in Chicago, but in the rest of the country which is also experiencing similar problems," Garland stated. "And we're going to try and mesh it up with grants for communities to, as I said, prevent violence, to interrupt violence and to provide the kind of relationship between the police and community necessary to build trust."
The attorney general said illegal gun trafficking will be a major component of the DOJ's focus moving forward. He also said the new DOJ force will be experimental, using trial and error to find what works best.
"What want to do is find the programs that really work, help them as much as we can in the cities which are really suffering," Garland continued. "And then transport that policy around the country to other cities, so that it can help those as well."
However, the attorney general's "trial and error approach" is not inspiring a great deal of confidence that the strike force will reduce crime. Even Democrats have slammed the Biden administration while asserting the new task force will not be enough to stop the illegal gun trade.
"It is good news that the DOJ has set up strike forces to come to New York and other cities to deal with the epidemic scourge of gun violence, but DOJ's plans are insufficient because so many of the guns used in crimes come from other states," said Senate Majority Leader Chuck Schumer (D-N.Y.). "So we're asking them to expand he domain of their task forces."
Meanwhile, a recent poll produced for ABC News by Langer Research Associates shows only 38 percent of Americans approve of Biden's handling of crime as violence continues to ravage American streets without any sign of yielding.