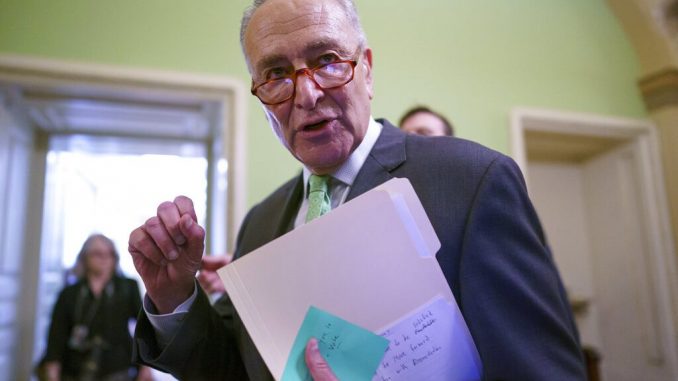 OAN Newsroom
UPDATED 7:18 AM PT – Tuesday, July 20, 2021
Senate Majority Leader Chuck Schumer (D-N.Y.) plans to move forward with a test vote on a bipartisan infrastructure bill. The New York Democrat made the announcement on the Senate floor Monday.
"For the past several months, both Democrats and Republicans have been hard at work putting together two major bills to meet the challenges of the 21st Century, " Schumer stated.
The vote on whether or not to proceed with debate on the bill will take place on Wednesday. This comes despite Republicans voicing their intent to block the upper chamber with moving forward. The vote on cloture will need 60 'yes' votes, which means at least 10 Republicans would also have to be on board to proceed with the $1.2 trillion infrastructure bill.
"This week the Senate aims to make even more progress on these tracks," Schumer continued. "I will file cloture on a shell bill, which will act as a legislative vehicle for the bipartisan infrastructure framework."
Passing the bipartisan infrastructure agreement is key to making our economy more efficient and competitive for decades to come.

There is no reason to let arbitrary deadlines dictate this process. It's more important to get it right rather than rush it.

— Rob Portman (@senrobportman) July 19, 2021
Sen. Rob Portman (R-Ohio), who led talks with Democrats, said it's absurd to force a vote without finalized legislation. Meanwhile, Senate Minority Leader Mitch McConnell (R-Ky.) said Republicans need to see the bill before a vote to debate.