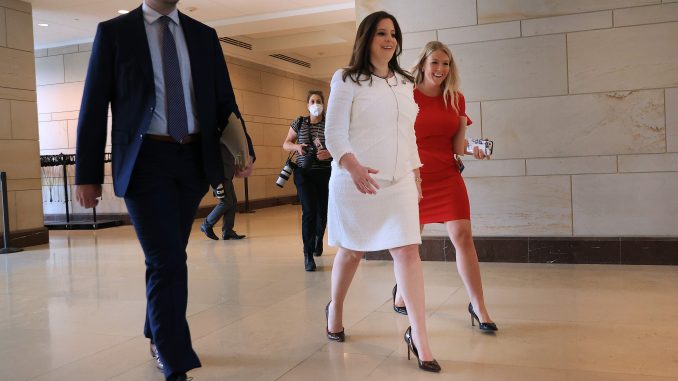 OAN Newsroom
UPDATED 7:27 PM PT – Tuesday, July 20, 2021
A 23-year-old Republican from New Hampshire has launched her bid for Congress. On Tuesday, Karoline Leavitt announced her run to defeat Democrat Rep. Chris Pappas (N.H.) in the state's first district.
Leavitt served as former assistant press secretary for President Trump and former spokeswomen for Rep. Elise Stefanik (R-N.Y.), which are both accomplishments she has not been afraid to highlight.
"I proudly helped advance President Trump's America First agenda, fight for the forgotten men and women of this country and combat the biased fake news media that attacked us every single day," she asserted. "I also served as the spokesperson for Elise Stefanik."
The 'Live Free or Die State' is my home and radical Leftists are trying to destroy our freedom.

I'm running for Congress – to serve as a bold conservative 🔥FIREWALL🔥 for New Hampshire between 'We The People' and the DC swamp.

SUPPORT MY FIGHT ➡️ https://t.co/VvVOzQU9m1 pic.twitter.com/uSHY0YUmDV

— Karoline Leavitt (@kleavittnh) July 20, 2021
In 2020, former senior white house adviser Republican Matt Mowers took an unsuccessful shot against Pappas. Mowers is a potential primary challenger to Leavitt as he has reportedly expressed interest in running again next year.