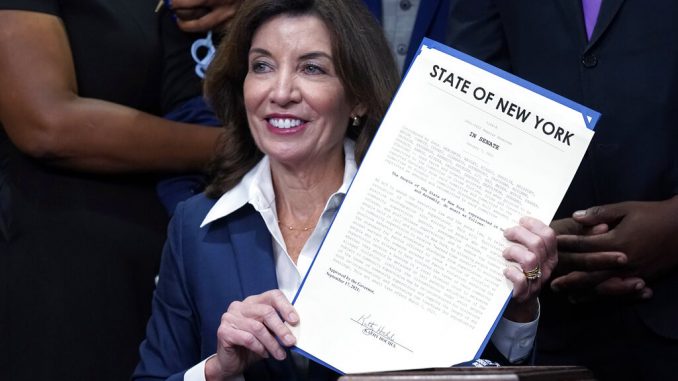 OAN Newsroom
UPDATED 7:38 PM PT – Friday, September 17, 2021
New York's new governor recently released dozens of prisoners and has vowed to release even more.
"New York state incarcerates more people for parole violations than anywhere in the country. That is a point of shame for us and it needs to be fixed," said Gov. Kathy Hochul. "And it's going to be fixed today."
Hochul ordered the release of 191 Riker's Island Prison inmates as she advances new criminal justice reforms in her state. She announced they had served their sentences under the dictates of the new Less is More Act and argued they shouldn't have to wait until the enactment date.
On Friday, the Democrat ordered the releases while also signing the Less is More Act into law. Hochul explained the point of the new act.
"The Less is More Act advances critical reforms to make our criminal justice a better and fairer institution. And what we're going to do is bolster our due process and have speedier hearings."
I was so grateful to join @GovKathyHochul @NewYorkLtGov, my fellow DAs, lawmakers and advocates for the signing of the Less Is More Act into law. This legislation makes NY fairer and smarter by giving parolees a better chance to succeed. pic.twitter.com/gKYvfZ0j7P

— DA Eric Gonzalez (@BrooklynDA) September 17, 2021
The new law also ensures parolees won't be returned to prison for violating technical conditions of their release. The moves come in response to safety concerns on Riker's Island, which is reportedly understaffed and overcrowded.
Meanwhile, the bill will take effect in March of 2022.