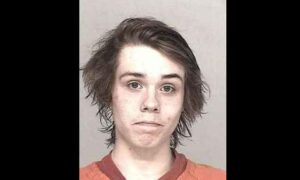 A man was fined $12 million and will serve four years in prison for trying to set fire to the Minneapolis Police Department's Third Precinct building last year in the midst of protests and riots.
Dylan Shakespeare Robinson, 23, was also ordered to serve two years of supervised release, according to the United States Attorney's Office District of Minnesota.
"On the night of May 28, 2020, Mr. Robinson chose to depart from lawful protest and instead engaged in violence and destruction," said Acting U.S. Attorney Anders Folk in a statement. "The arson at the Minneapolis Police Department's Third Precinct put lives at risk and contributed to widespread lawlessness in Minneapolis."
Robinson, of Brainerd, pleaded guilty in December to one count of conspiracy to commit arson.
Robinson's lawyer, William Mauzy, said that his client is being unfairly singled out, adding "there is no realistic chance" he'll be able to pay off the $12 million fine.
"He is bearing the sentence for the other thousand people who participated," he told New York Times on Wednesday. "Many others, far more culpable than Mr. Robinson, were not identified."
A federal criminal complaint accused him of lighting a Molotov cocktail that another person tossed at the police building on May 28, 2020.
Before that, a crowd of rioters was heard shouting: "Burn it down" multiple times in front of the building, according to authorities.
"Robinson, along with other co-conspirators, breached the fence and entered the building. Robinson, assisted by an unidentified co-conspirator, lit an object held by the unidentified co-conspirator who threw it toward the Third Precinct building with the intent that it would start a fire or fuel an existing fire," the U.S. attorney's office said.
Three other people have pleaded guilty in federal court for their roles in the arson incident. Bryce Michael Williams, 27, Davon De-Andre Turner, 25, and Branden Michael Wolfe, 23, previously pleaded guilty to one count each of conspiracy to commit arson, officials said.
Mauzy also argued that officials determined there were four dozen separate places of origin for the arson.
"That's a lot of different people setting fires at various spots in a police station," he said. "Mr. Robinson was unfortunately one of the few who was captured on video and identified."
But video footage from surveillance cameras, Facebook, and Robinson's own Snapchat account appeared to show him involved in setting the fire, according to a criminal complaint last year. At one point, a person who looks like Robinson appears to light a Molotov cocktail-like device held by someone else, who then threw it at the Third Precinct building. Robinson later allegedly threw another incendiary device at the building, authorities said.
Zachary Stieber contributed to this report.