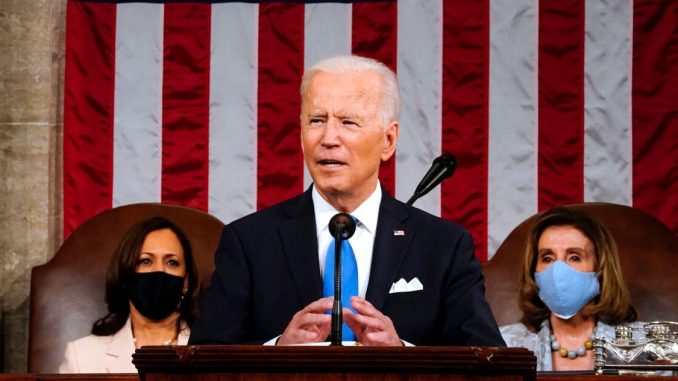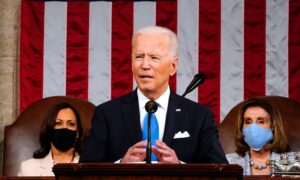 WASHINGTON—Ahead of his first address to a joint session of Congress, on April 28, President Joe Biden rolled out his third spending proposal, the American Families Plan, which, according to liberals, would be a "great achievement" if passed by Congress.
Opponents, however, criticize Biden's massive spending plan, calling it the largest expansion of the welfare state since the Great Society programs of the 1960s.
In his first address to Congress, Biden touted his new $1.8 trillion American Families Plan, calling it a "once-in-a-generation investment in our families and our children" to win the "competition for the future."
His blueprint promises to introduce guaranteed cash assistance to millions of Americans, which would end President Bill Clinton's welfare reform of 1996. Clinton signed into law a welfare reform bill to keep his campaign promise to "end welfare as we know it."
The bipartisan reform law ended the unpopular cash welfare program dating back to Franklin Roosevelt's New Deal.
As part of its $1.9 trillion COVID-19 relief package, the Biden administration significantly expanded the child tax credit for the 2021 tax year. The new plan now extends this increase in child allowance through 2025 and makes the tax credit "permanently fully refundable."
"With two parents, two kids, that's $7,200 in the pockets," Biden said, adding that it would help more than 65 million children and help cut child poverty by half.
The American Families Plan also proposes to make permanent the recent expansion of the child and dependent care tax credit, and the earned income tax credit for childless workers.
The plan also promises access to good education, affordable child care, and up to 12 weeks of paid leave and medical leave.
The American Families Plan, which is the second component of Biden's "Build Back Better" agenda, consists of about $1 trillion in investments and $800 billion in tax cuts and credits for families and workers.
This new plan follows his $2.3 trillion infrastructure proposal, the American Jobs Plan, released on March 31.
Since taking office, Biden has proposed a total of $6 trillion in new spending, including the $1.9 trillion COVID relief package he already signed.
According to Columbia University's Center on Poverty and Social Policy, Biden's policies would reduce the national poverty rate next year by 23 percent and the child poverty rate by nearly 47.4 percent.
In an interview with The Epoch Times, Irwin Garfinkel, a liberal scholar and co-director of the center, praised Biden's plan, calling it "a great achievement."
According to his cost-benefit analysis of the expansion of the child tax credit, for every dollar spent, the benefits to society as a whole would be $8. So if the government spends $100 billion for a one-year enhancement of the child allowance, he said society will gain $800 billion.
And most of that gain is because of benefits to children, he said, as they will grow up healthier, get better education, earn more money, and become less of a burden on the country's health care and criminal justice systems in the long term.
According to the Center for American Progress, a liberal think tank, Biden's plan would deliver strong economic growth, create millions of jobs, and address the nation's "caregiving crisis."
"This proposal recognizes a fundamental truth: America's economic growth and competitiveness is inextricably tied to its families' ability to thrive," John Podesta, founder of the center, said in a statement.
"It includes popular, long-overdue, and critical reforms to build the economy back stronger and more equitably from the pandemic."
In his "Kudlow" show on Fox Business last month, former President Donald Trump's economic adviser Larry Kudlow said Biden's spending plans would hurt the current "booming economy." He criticized his ambitious plan to expand welfare programs without a work requirement, calling it "the largest expansion of the welfare state since President Lyndon Johnson's Great Society."
Nick Eberstadt, political economist at the American Enterprise Institute, a conservative think tank, described Biden's plan as an "assault" on the welfare reform of the 1990s.
"In the depths of the emergency last year, there was a very compelling argument for government action," he told The Epoch Times.
"Maintaining emergency measures in non-emergency times may have unintended consequences.
"Incentivizing training skills and getting back to work would be better for our country than incentivizing indefinite unemployment, joblessness," he said, criticizing Biden's welfare plan for having no work requirements.
Robert Rector, senior research fellow at the conservative Heritage Foundation, echoed the same concerns, saying Biden's "reform is overwhelmingly anti-work and anti-marriage, and therefore it's actually harmful to poor people."
According to Rector, Biden's plan would undo the accomplishments of welfare reform in the past 25 years, such as substantially reducing the poverty rate for single parents and the birth rates for nonmarried teenagers.
If Biden's plan is signed into law, "we can expect to see the teen birth rates to go up, and we can expect to see the work rates of single mothers to go down," he said.