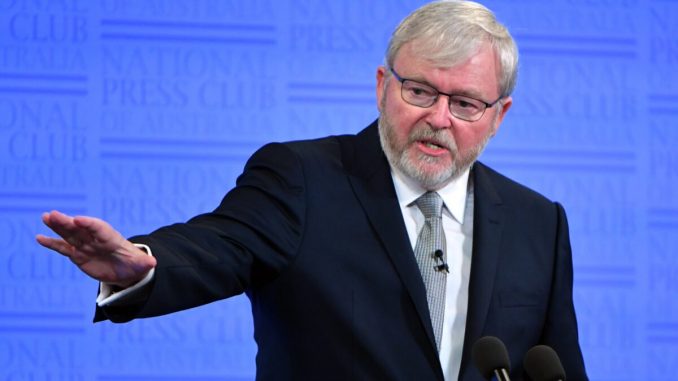 Former Australian Prime Minister Kevin Rudd has addressed a trade forum organised by a Chinese propaganda body and state-run media outlet, aimed at encouraging "regional exchange and cooperation" surrounding the Regional Comprehensive Economic Partnership (RCEP).
The appearance comes despite current Australian ministers being frozen out of diplomatic contact with their Chinese counterparts since 2020 amid an ongoing economic coercion campaign being waged by Beijing against Australia.
Rudd delivered his message via video saying free trade played an important role in China's economic development but he noted that due to political factors, "protectionism" was becoming more prominent, according to state-run media outlet China Daily.
"It is hoped that China will continue to adhere to free trade, reform and opening up, and multilateralism, which will benefit the development of China, the region, and the world," he said.
The RCEP Media and Think Tank Forum was attended by 300 individuals including members of the press, think tanks, embassy officials, and business representatives from the Philippines, Laos, Myanmar, Malaysia, Indonesia, and Singapore.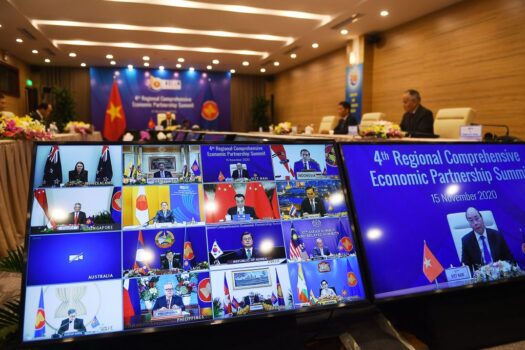 The conference was also dedicated to encouraging free trade around China's southernmost province Hainan. It was organised by the China Daily newspaper, the Publicity Department of the Hainan Provincial Party Committee, and the China (Hainan) Reform and Development Research Institute.
Chinese Communist Party (CCP) heavyweight Jiang Jianguo, the deputy director of the Publicity Department—previously known as the Propaganda Department—addressed the meeting calling for deeper cooperation between regional neighbours.
The RCEP was minted in November last year and is the world's largest trade agreement covering 15 nations, and 30 percent of the world population and gross domestic product. Australia joined RCEP with an eye on further opening the South East Asia market.
RCEP does not completely open free trade across the region, instead, it establishes a baseline of norms and rules for customs control and access to certain markets.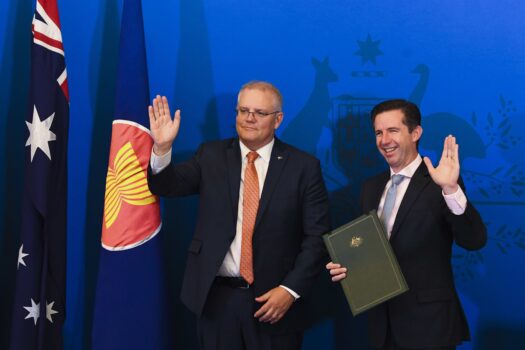 Further, the agreement gives countries dispute resolution mechanisms against other nations, a service the World Trade Organisation (WTO) has been unable to provide since 2019.
The WTO's dispute resolution mechanism—the appellate body—has been unable to resolve disputes since the former U.S. administration refused to appoint new members to the body because of problems such as judicial overreach, slow decision-making, and consistent rulings against U.S. tariffs designed to protect American businesses. The European Union has only recently recognised these issues as well.
Rudd's appearance comes despite Australian trade ministers being unable to establish contact or meet with their Chinese counterparts.
Over the past year, Beijing has launched a year-long economic coercion campaign against Australia targeting numerous exports to China including coal, beef, wine, barley, lobster, timber, lamb, and cotton industries. The actions came in response to calls for an independent investigation into the origins of COVID-19.
Australia has launched an action at the WTO to have tariffs worth around 80 percent removed from barley exports after allegations of "dumping" against Australian businesses.
Beijing, meanwhile, entered the RCEP reluctantly and due to fears of increasing international isolation, according to Yang Wei, an Epoch Times China affairs commentator. He noted RCEP was unlikely to open up any new opportunities for China.
"The political situation in the South China Sea and East China Sea is tense. The signing of the RCEP may be a temporary respite for the CCP's senior leaders, but it cannot actually solve the regime's problems at home and abroad," he wrote in an op-ed.