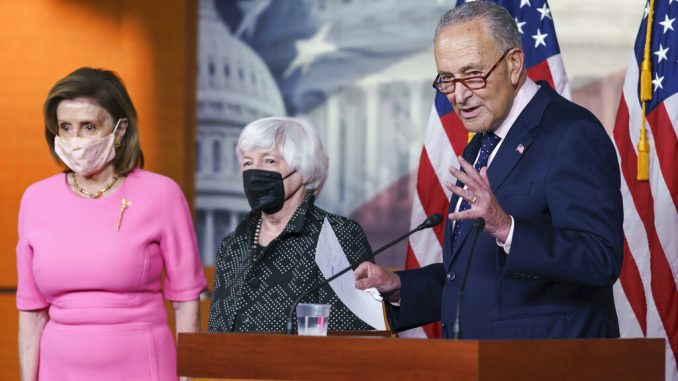 OAN Newsroom
UPDATED 8:02 AM PT – Friday, September 24, 2021
Congressional Democrats rolled out their plan for financing the $3.5 trillion reconciliation bill. Speaker of the House Nancy Pelosi (D-Calif.) and Senate Majority Leader Chuck Schumer (D-N.Y.) enthusiastically addressed the press Thursday after Joe Biden met with Democrat leaders to ensure his administration's agenda is passed.
"The Budget Committee is going to be marking up the bill in a timely fashion, in time for us to send it to the Rules Committee for consideration," said Pelosi. "To that end, a very important part of all of this are the pay fors, how we want to build back better in a way that is fiscally sound."
The framework is a move by arbitrators to retain moderate support while assuring progressives their key points will remain in the package. Members of both the House and the Senate have expressed reservations against the bill in the past.
Rep. Smith on reconciliation: We need to kill this bill to save America https://t.co/OGAtxZ0BZh #OANN @camrynbaylee

— One America News (@OANN) September 22, 2021
Rep. Tom Suozzi (D-N.Y.) said he would only vote for the bill if the state and local tax deduction cap was repealed.  Meanwhile, both Sen. Kyrsten Sinema (D-Ariz.) and Sen. Joe Manchin (D-W.Va.) have stated they would not support the bill unless it was trimmed down. Pelosi has argued they are placing too much importance on the numbers.
"It's not about a price tag; it's about values, not dollars," said the House Speaker. "And when we come to agreement on what people are for or what they would cut if they wanted to do this, what would you cut? But our goal is to have a very specific priorities."
When asked about party solidarity, Pelosi expressed confidence in a unified front moving forward.
"We have consensus in overwhelmingly, maybe 10 to one, 20 to one in our caucus as to these priorities," she stated. "A higher percentage in the Senate, but we wanted to make sure that it was paid for and I've always said I'm a pay go person."
Pelosi has yet to commit to a date to introduce the bill on the House floor.