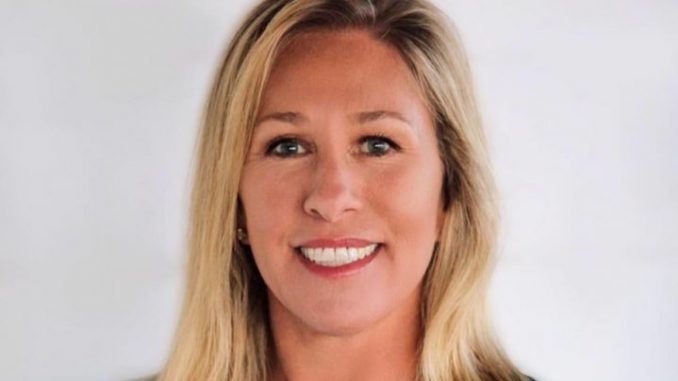 OAN Newsroom
UPDATED 3:05 PM PT – Wednesday, August 12, 2020
President Trump recently congratulated Marjorie Taylor Greene on winning the Republican nomination in Georgia's runoff for the 14th congressional district.
On Twitter, he called Greene a "future Republican star." He added she's "strong on everything and never gives up."
Congratulations to future Republican Star Marjorie Taylor Greene on a big Congressional primary win in Georgia against a very tough and smart opponent. Marjorie is strong on everything and never gives up – a real WINNER!

— Donald J. Trump (@realDonaldTrump) August 12, 2020
This came after Greene defeated fellow Republican John Cowan on Tuesday. She is now expected to take the heavily conservative district from Democrat Kevin Van Ausdal in the general election.
The businesswoman, who has led a mainly self-funded campaign, garnered her base by taking up arms against the D.C. swamp. She has issued attacks against George Soros, House Speaker Nancy Pelosi, Democrat squad members, the Black Lives Matter movement and Antifa.
"President Trump declared Antifa a domestic terrorist organization. I have a message for Antifa terrorists: Stay the hell out of Northwest Georgia. You won't burn our churches, loot our businesses or destroy our homes." – Marjorie Taylor Greene, congressional candidate (R-Ga.)
Greene also made waves by seeming to back QAnon in 2017. The conspiracy has alleged a deep state network of government, business and media officials are waging a war against President Trump.
Her controversial stances and remarks prompted a staunch rebuke from Republican lawmakers in the lower chamber, such as House Minority Whip Steve Scalise.
However, others have sided with President Trump in their support for her. Rep. Jim Jordan (R-Ohio) and Rep. Andy Biggs (R-Ariz.) have donated funds to her campaign.