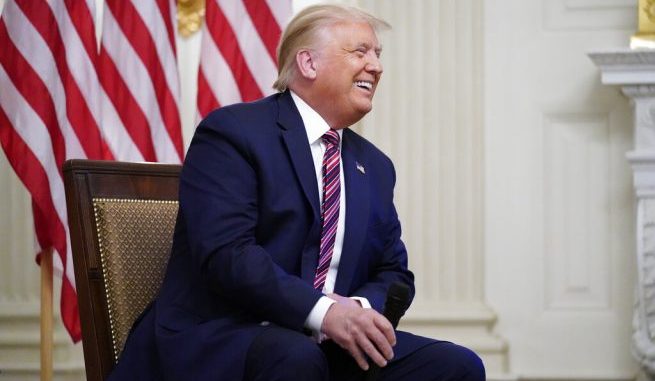 OAN Newsroom
UPDATED 4:45 PM PT – Wednesday, August 12, 2020
On Wednesday, President Trump attended a discussion on returning our kids safely back to school this fall.
"We cannot indefinitely stop 50 million American children from going to school, (which is) harming their mental, physical, emotion, academic development and inflicting long-term lasting damage," he stated. "…We want to get our students in the classroom."
The American Academy of Pediatrics' recommendation: Open the schools.

"Lengthy time away from school and associated interruption of supportive services often results in social isolation, making it difficult for schools to identify and address important learning deficits." pic.twitter.com/zrNFGAYtX3

— The White House (@WhiteHouse) August 12, 2020
Education Secretary Betsy DeVos, White House Counselor Kellyanne Conway and Vice President Mike Pence joined him at the Eisenhower Executive Office Building in D.C. for the event.
Pence touched on the president's continued commitment to reopening K-12 schools. He added the CDC has finally recognized it's in the interest of public health to get kids back in class.
"The CDC has recognized that it's a public health priority to have our kids back to school and in-person learning. Mr. President, as you've also made clear, we're going to make sure our schools and our states have the resources to be able to safely reopen, and we're calling on Congress to work with us." – Mike Pence, Vice President of the United States
.@CDCgov has recognized that it is a public health priority to return students to in-person learning.

"We are working literally day in and day out with Governors and state education leaders to find a way that we can safely reopen our schools," Vice President @Mike_Pence said. pic.twitter.com/WBOQFJaMBz

— The White House (@WhiteHouse) August 12, 2020
Later in the event, Secretary DeVos reiterated it's important that schools not be held captive to "other peoples' fears of agendas." Her remarks referenced reports that claimed Democrats want schools to remain closed as a way to hurt the president's reelection effort.
.@BetsyDeVosED: "We have got to ensure that families and parents have options that are going to work for their child and for their children's education." pic.twitter.com/hixBBsuUHx

— The White House (@WhiteHouse) August 12, 2020