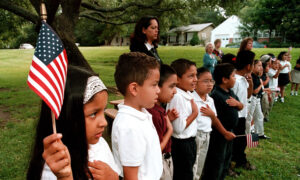 Two candidates opposed to teaching critical race theory (CRT) in public school classes have been elected to a Texas school board.
Nine months after Hannah Smith and Cameron "Cam" Bryan introduced a proposal to prevent teaching CRT in the Dallas-area Carroll Independent School District, the pair received nearly 70 percent of the vote in their respective races, winning two seats on the board.
The election came after a 2018 video surfaced showing two students shouting the N-word. The district in response proposed a "Cultural Competency Action Plan," drawing backlash from parents and the two candidates, who vocally criticized CRT.
Some parents argued during school board meetings that the district's proposal, which would require diversity and inclusion training, would create "diversity police" and discriminate against white children.
Smith and Bryan won Saturday's election in landslide, taking two open school board spots.
"The voters have come together in record-breaking numbers to restore unity," said Smith, a Southlake attorney and former clerk for Supreme Court Justice Samuel Alito. "By a landslide vote, they don't want racially divisive critical race theory taught to their children or forced on their teachers. Voters agreed with my positive vision of our community and its future."
Smith's opponent, Erik Hernandez, said after the vote that he was worried about how the result would impact students in the affluent school district.
"I don't want to think about all these kids that shared their stories, their testimonies," Hernandez said. "I don't want to think about that right now because it's really, really hard for me. I feel really bad for all those kids, every single one of them that shared a story. I don't have any words for them."
The news comes as a growing number of Republican leaders nationwide have said they aim to ban the teaching of CRT in schools, workplaces, and government agencies.
President Joe Biden, in one of his first executive actions in the White House, rescinded his predecessor's ban of CRT in federal workplaces. Former President Donald Trump's September 2020 executive order declared that diversity and inclusion training for federal employees should not promote "un-American" and "divisive concepts."
Biden instead issued an executive order stating that the federal government must pursue "a comprehensive approach to advancing equity for all."
CRT has gradually proliferated in recent decades through academia, government structures, school systems, and the corporate world. It redefines human history as a struggle between the "oppressors" (white people) and the "oppressed" (everybody else), similarly to Marxism's reduction of history to a struggle between the "bourgeois" and the "proletariat." It labels institutions that emerged in majority-white societies as racist and "white supremacist."
Like Marxism, it advocates for the destruction of institutions, such as the Western justice system, free-market economy, and orthodox religions, while demanding that they be replaced with institutions compliant with the CRT ideology.
In February, the Chinese American Citizens Alliance of Greater New York condemned CRT, describing it as an outgrowth of the European Marxist school of critical theory that interprets American social and political life through the lens of a power struggle between the race of the oppressor and that of the oppressed.
Proponents of CRT have argued that the theory is merely "demonstrating how pervasive systemic racism truly is."
On Thursday, the Oklahoma House voted to ban public schools and universities from teaching CRT. The bill, HB1775, now heads to Gov. Kevin Stitt's desk to be signed into law. He has received requests to veto the bill.
Days earlier, Idado Gov. Brad Little signed into law a bill, H 377 (pdf), that would prevent the teaching of CRT in the Gem State's public schools and universities.
And last month, Florida Gov. Ron DeSantis denounced CRT as hateful.
"There's no room in our classrooms for things like critical race theory," he said, announcing that the state's new civic curriculum will explicitly exclude critical race theory. "Teaching kids to hate their country and to hate each other is not worth one red cent of taxpayer money."
Petr Svab contributed to this report.