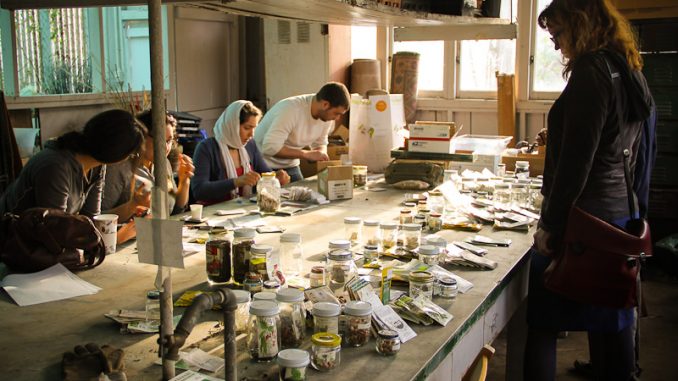 "There is no joy in possession without sharing." — Erasmus
Williamsburg, Va., artist Ashley Seutter (nom de plume, Sally St. Rose) has been gardening for the last several years on her small plot of land as well as organizing a neighborhood community garden. She dries seeds each fall and saves them for spring planting. But a few years ago she began to realize she was saving more seeds than she could use, so her surplus was mailed off periodically to friends and family. Then a friend sent Rose a photograph of a seed library.
"I had not heard there was such a thing," she said, "but I thought it would be a great way to share my seeds instead of hoarding them."
Seutter began searching for a seed library community in Williamsburg and found none. So she started one. She founded Williamsburg Seed Library and chose for the first site of her hand-built and decorated seed box the whimsical and practical Spoke and Art Provisions, located just outside Williamsburg, Va., on the well-biked Capitol Trail that connects the historic area to Richmond.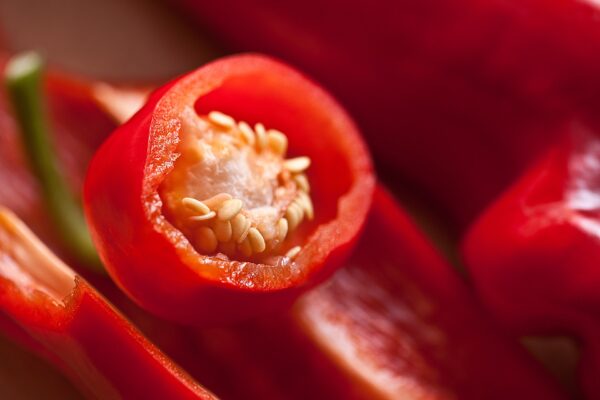 "Everyone had said it was an ideal place to have a seed library because the store/café owner really wants to better the community," said Seutter. "He installed outside gyms, has a free book library, offers air hoses for bikes, has water for humans and dogs … A seed library fits in perfectly."
"People seem to love having the seed library here," said Steve Rose, owner of Spoke and Art Provisions. "We've had a free [book] library since we opened, but this is our first seed library and it's getting a lot of activity. People are stocking it and taking seeds."
Like other seed libraries (also referred to as seed banks) cropping up throughout the United States, Seutter's Williamsburg Seed Library is an all-volunteer-stocked endeavor. "Our main goals are to promote seed saving and knowledge and to foster community resilience."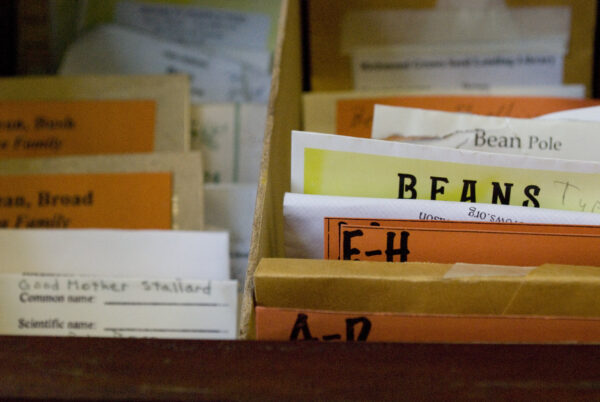 Immediately upon installation in April 2021, Seutter said patrons of Spokes and Art Provision – as well as bikers en route on the Capitol Trail – began checking out the "Free Seeds" box adorned with colorful paintings of fruits, vegetables, and vines. Seutter lives only 10 minutes away from her first seed library and is able to regularly check inventory and keep the box tidy.
"People have been donating seeds and bringing flowers and other germinating plants to drop off," said Seutter, who often posts on social media the types of freebies available at the seed library. "It's a grassroots effort. People are encouraged to share extra seeds and take any seeds they might need or want to try growing."
On social media or in the seed library, she pointed out that people taking seeds also appreciate gardening tips "or even photos of what you have grown with seeds [being donated to] the seed library."
While Spokes and Art Provisions is the only current location for a Williamsburg Seed Library, Seutter anticipates other sites sprouting throughout the southeastern Virginia area.
"I think this concept will have longevity. More people are wanting to do things for the betterment of the environment., like pick up litter and plant a garden. We should really all know how to grow our own food because there is such a sense of accomplishment. And I've already talked to some master gardeners involved in historic Williamsburg as well as the local library about doing informational talks on seed libraries."
Because Hillie Salo has been a University of California Cooperative Extension Master Gardener since 2009, she was asked to be involved in the establishment of the area's first seed library in 2013. Based in Silicon Valley, Calif., she is also affiliated with Richmond Grows Seeds Library through the national seed library network (http://seedlibraries.weebly.com). In her Santa Clara County community, she regularly educates the public about seed saving and seed libraries. In addition, Salo created a Master Gardener seed demonstration garden at San Jose, Calif.'s Martial Cottle Park. "And this is where I save seeds for the new Seed Sharing Station there as well."
She pointed out, "Seed sharing is a very important concept and I have been an advocate. I've also worked with our local seed libraries to create One Seed One Community, which has spread all over the country and taken many forms."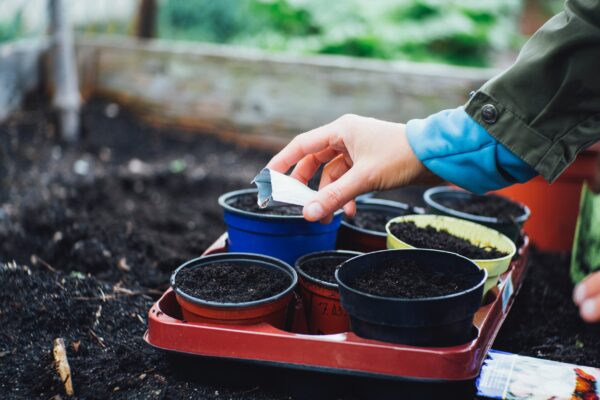 The One Seed One Community concept is based on library reading programs that spur communities to read one book together within a designated time period. "One Seed One Community encourages folks to unite around growing one seed," added Salo. "Together we can create a much larger gene pool than we can individually, and over time when we continue to grow them, they may become adapted to the local environs."
Salo further explained the seed initiative, "Many home gardens are usually too small to grow the minimum plant numbers to maintain the genetic stock of many seed varieties. Choosing one seed for many gardeners to grow and save builds a greater diversity into the genetics of that variety, as we share those seeds with one another through the vehicle of our seed libraries. Over time, this process has the potential to build local adaptation in these seeds and strengthen our local food systems."
One Seed One Community, which provides education on its website, recommends newbie seed collectors start by growing self-pollinators, such beans and peas, for the following reasons: "There tends to be more satisfaction in saving these larger seeds for some people. Many bean seeds are gorgeous and can hook folks into seed saving!"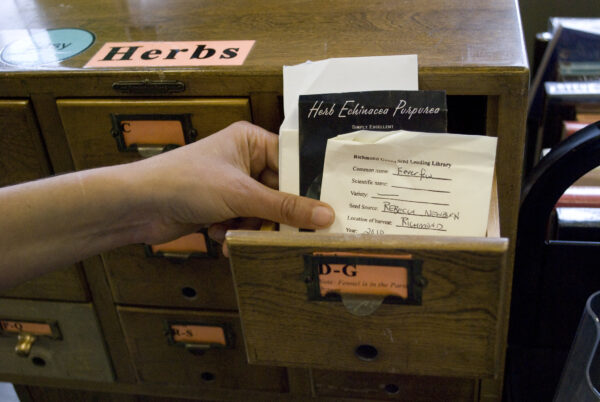 A vast array of seeds and seedlings have already been offered through the Williamsburg Seed Library, but some common and easy-to-grow plants, according to Seutter, are tomatoes and zinnias. "This year I'm growing garlic, spaghetti squash, and cantaloupe, and it will be my first year to try saving kale," she said. "I learned that you can't eat the kale if you're going to have seeds because you have to let the whole plant 'go to seed' and dry out."
Seed donators can pack seeds individually or host packing parties. One Seed One Community offers suggestions about how to pack seeds. Recommended are around 20 seeds per envelope. Seed envelopes ordered online are generally under $20 for 100 or more, or there are various online instructional videos showing how to DIY envelopes using scrap or plain white paper. Informational labels can be attached to packets, or the envelopes can be written on to include type of seed, growing instructions, origins, history, etc.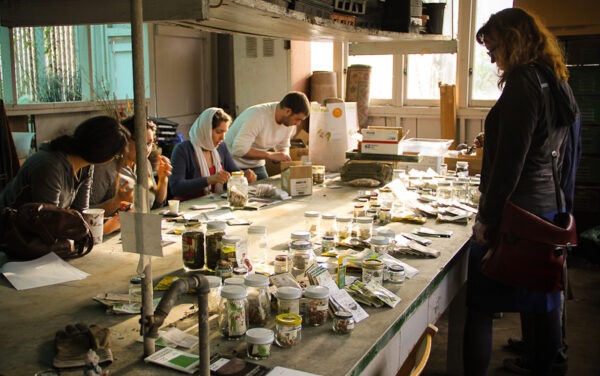 Although detailed information is not mandatory for the Williamsburg Seed Library seeds, Seutter and other seed library managers encourage seed donors to provide "as much info as possible." Seutter indicated people want to know if seeds are from a particularly meaningful plant or heirloom variety that has been passed down through generations.
She appreciates it when seed donors at least include their initials on seed envelopes. "That way, if someone has success growing the seeds, they might want to look for seeds from that donor again." Any information that will not fit on the seed packets can be included in handouts made available in seed libraries.
There are no hard and fast rules to start a seed library. All that is required is a waterproof box and seeds. Of course, if the box is not installed on the seed librarian's private property, permission is required from a business or land owner.
Other than to promote gardening and community, seed libraries send a greater message – that home gardeners are the ones that will save biodiversity "and that happens by sharing and that happens in seed libraries," maintained Salo. Plus, she said that seed libraries motivate non-gardeners to give gardening a try and they enable low-income families to grow their own food.