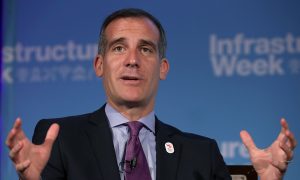 A Washington DC-based news website in an exclusive report has alleged that a top Biden pick for the Ambassador to India, Eric Garcetti, has "collaborated with" Chinese Communist Party "influence groups" and had privately messaged a Chinese propaganda chief.
The National Pulse in an "exclusive reveal" said that Garcetti had earlier collaborated with various groups linked with the United Front Work Department (UFWD), a CCP organ that directly reports to its Central Committee and manages relations with elite people and institutions inside and outside China.
"China uses 'United Front' work to co-opt and neutralize sources of potential opposition to the policies and authority of its ruling Chinese Communist Party (CCP). The CCP's United Front Work Department (UFWD)—the agency responsible for coordinating these kinds of influence operations—mostly focuses on the management of potential opposition groups inside China, but it also has an important foreign influence mission," said a 2018 Staff Research Report (pdf) by the U.S.-China Economic and Security Review Commission.
The UFWD is tasked with spreading the CCP's influence and agenda overseas and also with "co-opting and neutralizing" any threat to it, according to the US State Department, which designated the UFWD-controlled organization–the National Association for China's Peaceful Unification (NACPU)–as a foreign mission of the PRC under the U.S. Foreign Missions Act, last year.
Garcetti, the co-chair of Biden's presidential campaign visited China in 2014 at the request of the Chinese People's Association for Friendship with Foreign Countries (CPAFFC), according to the National Pulse, which was established by author, reporter, commentator Raheem Kassam before the 2016 American presidential primary process.
While declaring NACPU as a foreign mission of the People's Republic of China, the U.S. State Department defined the CPAFFC as a "Beijing-based organization tasked with co-opting subnational governments" that has sought to "directly and malignly influence state and local leaders to promote the PRC's global agenda."
CPAFFC's deputy director-general, Zhang Heqiang wrote an article, "Saying Farewell to Mayor Garcetti at Beijing Airport" in June 2015 for the CPAFFC's magazine whose screenshot is shared by The National Pulse.
Heqiang reportedly wrote that Garcetti called Chinese Leader Xi Jinping "remarkable."
"He spoke of President Xi Jinping as a remarkable Chinese leader, whose foreign policy succeeded in helping China build an image of a responsible major country in the international community," Heqiang reportedly wrote in his article.
Heqiang also wrote that Garcetti visited Chinese companies like Huawei that are labeled as the collaborators of the Chinese military by the U.S. Defense Department.
Garcetti has collaborated with China-United States Exchange Foundation (CUSEF), another CCP-linked organization set up in Hong Kong in 2008.
The CUSEF became a topic of debate in the United States in 2018 over the grants it made to the U.S. universities for "endowed professorship in China studies at the Johns-Hopkins School for Advanced International Studies; and a proposed grant (which was ultimately declined) for the China Public Policy Center within the University of Texas at Austin," according to the Jamestown Foundation.
The Jamestown Foundation gave evidence in its report about how the CUSEF was a CCP apparatus working to not only fund and influence the American academic and research institutions but also influence the US policy.
The CUSEF website continues to mention Garcetti as a "notable" delegate from the Center for American Progress (CAP) that visited Beijing for a three-day trip in 2016. The CAP is a DC-based policy institute that The National Pulse describes as "Obama administration alumni-heavy."
Garcetti has also earlier appeared on CGTN, the biggest Chinese international English cable channel, in August 2018 and criticized Trump's trade tariffs against China.
Garcetti was earlier considered for Biden's cabinet but was dropped down due to a sexual harassment lawsuit against one of his former aides, Rick Jacobs, according to the American news website Axios.
Indian media is replete with reports of Garcetti's candidateship for the ambassadorship and about the sexual harassment case against Jacobs.
President Biden is expected to send his nomination for the ambassador to India next week to the Senate.
The office of Mayor Garcetti did not immediately respond to a request for comment.