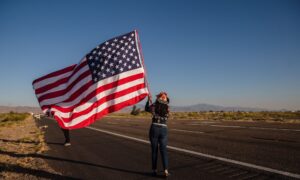 Two Republicans have launched their bids for governor of Arizona in hopes of succeeding incumbent Gov. Doug Ducey in 2022, who will not be running due to term limits.
State Treasurer Kimberly Yee became the first major Republican to jump into the race on Monday, followed hours later by developer Karrin Taylor Robson.
Yee announced her plans in a video posted on Twitter, which she captioned, "as Governor, I'll put Arizona First," urging supporters to join her "in fighting back against Washington and the socialist agenda."
In the video, she praises former President Donald Trump's economic and immigration policies, vowing to tackle the border crisis.
"Washington is simply not going to protect Arizona, refusing to enforce the law, opening our state to drug cartels, violence, and human traffickers, putting partisan games over safety and security," Yee said.
Yee vowed to "continue President Trump's fight to secure our southern border" and push back against what she said were socialist policies that disincentivize hard work and personal responsibility.
"Joe Biden and the Washington Democrats are trying to strip away the values that make our country great," she alleged, vowing to "promote opportunity over handouts."
"President Trump's America First agenda had our economy booming like never before," she said, adding, "but now our way of life is under attack by the corrupt press, reckless corporate leaders, and politicians who put socialist ideals over people."
Robson, who spent years as a developer and is founder and president of AZ Strategies, a land-use strategy firm based in Phoenix, announced her bid on a campaign website, which describes her as a successful business leader who "has dedicated her life to fighting for our conservative values" and "committed to do whatever it takes to defend Arizona from the radical left."
In a video on her website, she said that, "in just a few months, we've seen the direction Joe Biden and Kamala Harris want to take this country, and as Arizonans we need to fight back."
While she did not provide details around her policy priorities, Robson said in the video she would spend the next several months traveling the state to hear from constituents "about how we can stand together and fight the radical Biden-Harris agenda."
Some other possible GOP candidates for governor include former congressman Matt Salmon, former Ducey chief of staff Kirk Adams, and Maricopa County Supervisor Steve Chucri, according to AZCentral.
On the Democrat side, former Nogales Mayor Marco López has also entered the race, announcing his bid in March. Other possible Democrats include Secretary of State Katie Hobbs, as well as former Phoenix mayor and current Rep. Greg Stanton (D-Ariz.).