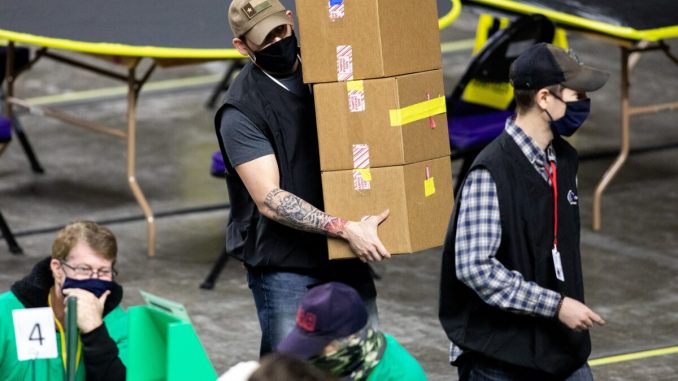 Workers on Monday resumed reviewing ballots and election machines in a 2020 election audit in Arizona's largest county.
Approximately 500,000 ballots from the nearly 2.1 million cast in Maricopa County in the presidential election have been reviewed so far by the audit team, which was hired by the state Senate.
The team took a break as high school graduations were held in Veterans Memorial Coliseum in Phoenix. Workers moved the ballots back into the coliseum over the weekend. The Arizona Senate has control of the building through June 30 to finish the audit, according to an agreement (pdf) obtained by The Epoch Times.
"We have a lot more tables and people that they trained during the one week off and so we think the throughput is going to pick up significantly. We have the colosseum this last week of May and all of June, so we're confident that we can get it done during that time," Ken Bennett, the former Republican Arizona secretary of state who is serving as the audit liaison for the Arizona Senate, told The Epoch Times.
Workers put up 44 circular tables for recounting ballots and 32 rectangular tables for inspecting ballots. Twenty-seven of the former were in use on Monday morning shortly before 11 a.m., along with 11 inspection tables. Auditors are considering adding a third shift that would go from 8 p.m. to 1 a.m.
Auditors, led by Florida-based Cyber Ninjas, initially said they'd take about six weeks from start to finish. The audit started on April 23.
Doug Logan, CEO of Cyber Ninjas, told state senators during a meeting last week that the delayed timeline is due to "a number of technical issues" as well as a lack of workers.
Firms hired by Maricopa County completed a machine audit earlier this year, and workers reviewed a sampling of ballots as part of a statewide hand recount in November 2020. Neither uncovered any problems, county and state officials have said.
Those primarily focused on ensuring the version of the software that was supposed to be running on ballot tabulator machines was, in fact, in use, Logan said.
"At no point in any of those audits did they actually take a look at actual ballots and run those ballots through the system or do actual counting of it to validate the results," he said.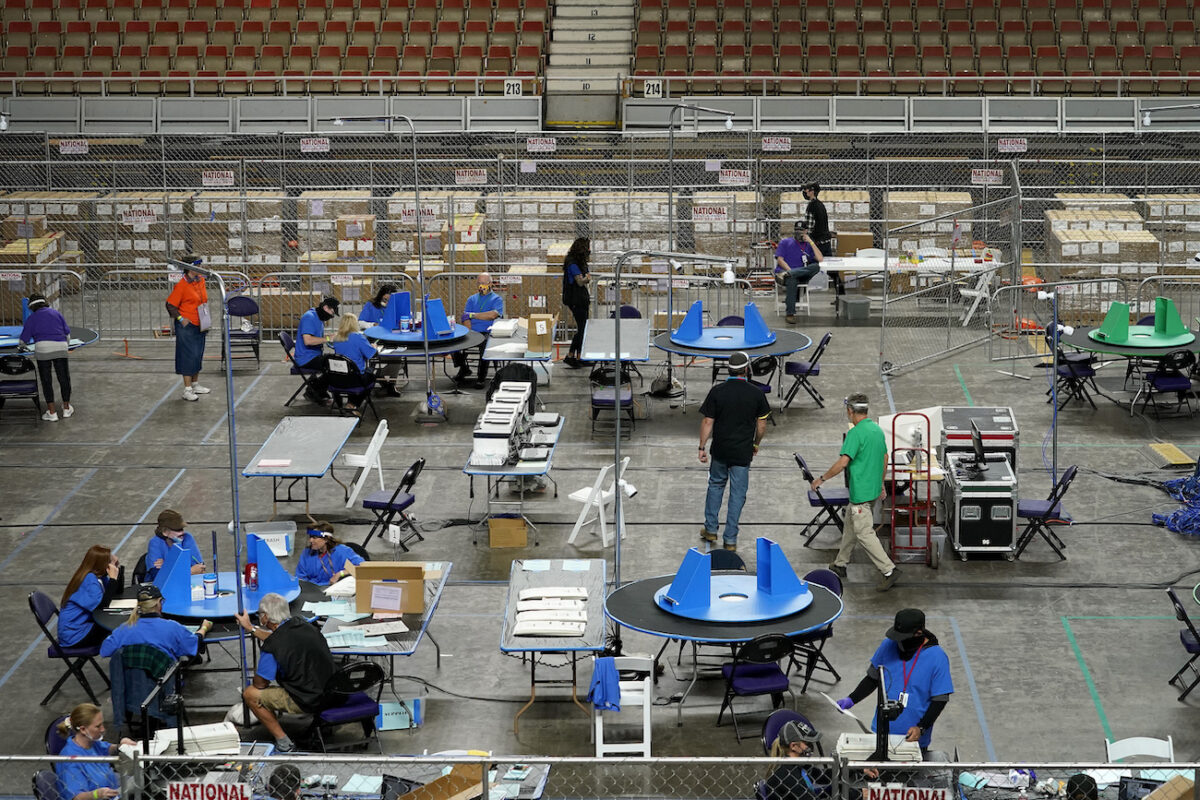 The new audit "is being done at the request and the direction of the Senate, so that people can have confidence that the election was done correctly," Bennett told The Epoch Times. "It has nothing to do with trying to change the results from November 2020."
Auditors have said they found irregularities, including a deleted database and ballot batches that did not match with the documentation given to them by Maricopa County.
Top county officials have condemned the audit, calling for it to end. The officials are refusing to fully comply with subpoenas deemed valid by a county judge, withholding routers and router images. Dominion Voting Systems, which also opposes the audit, has declined to provide auditors with passwords that would grant them top-level access to election machines.
The county's lawyer, Allister Adel, asked Arizona Senate President Karen Fann, a Republican, on Friday to preserve all documents related to the audit. She suggested the county might file lawsuits over the audit in the future.
Bennett in response said, "that's something we were planning on doing anyway."
Resistance to the process goes up to Arizona Secretary of State Katie Hobbs, who told county officials in a recent letter that they should not use the machines that are being audited in the future because of concerns they may be compromised.
"This is everything but an audit that we're seeing. Protecting the election is not necessarily their endgame here, their endgame is trying to disrupt in the future, undermine voters' confidence, and continue to perpetuate the 'big lie'" Hobbs said during a Monday appearance on MSNBC.
A county spokesperson told The Epoch Times via email that they're reviewing the letter. A spokesperson for the county's Elections Department said it would not use any of the equipment being audited "unless the county, state, and vendor are confident that there is no malicious hardware or software installed on the devices."
Bennett called the assertions by Hobbs, a Democrat, ridiculous and unfounded.
"The machines were under 24/7 video security and physical guarded security, there's been nothing done to the machines that would make them unusable," he said.
He said he's not clear about why there has been such strong opposition to the audit.
"I'm not sure, but it makes you think that the more they resist, the more important it is that we do it," he said.