President Joe Biden on Monday denounced recent attacks against the Jewish community, calling them "despicable," while pledging to stop the anti-Semitic assault incidents.
"The recent attacks on the Jewish community are despicable, and they must stop," the president wrote on Twitter. "I condemn this hateful behavior at home and abroad—it's up to all of us to give hate no safe harbor."
Biden's comments come as multiple violent anti-Semitic attacks have taken place recently on a national and international level—including in the New York Times Square area, as well as in Los Angeles, southern Florida, Germany, and the United Kingdom, among other places.
Some of the attacks were reported shortly after, or during, pro-Israel and pro-Palestinian demonstrations over the fighting Gaza, which has since ended in a cease-fire agreement between Israel and Hamas.
In a letter to Biden dated May 21, the Anti-Defamation League (ADL) urged the president to call out antisemitism and recommended specific actions, including fighting hate on college campuses and enhanced security for religious institutions.
The international Jewish non-governmental organization, based in the United States, reported on numerous antisemitic incidents around the world and in the United States, including on social media, since the Gaza conflict began.
"The perpetrators of these attacks deliberately targeted Jewish institutions and individuals for no other reason than their religion, justifying it with age-old antisemitic tropes, exaggerated claims, and inflammatory rhetoric," the letter claims.
Biden isn't the first high-profile politician who has publicly condemned recent attacks against the Jewish community.
New York Gov. Andrew Cuomo said on May 21 he "unequivocally" condemns attacks on "visibly Jewish New Yorkers" and the state won't tolerate "anti-Semitic violent gang harassment and intimidation."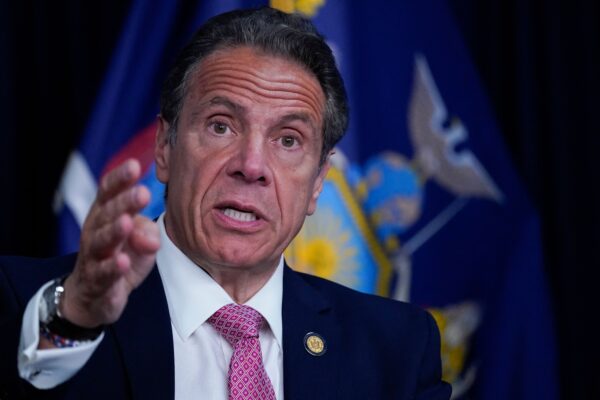 The governor's comments came after a 29-year-old Jewish man was attacked by a group of men in New York City's Times Square on May 20 amid demonstrations over the deadly conflict between Israel and Hamas, the Palestinian terrorist group ruling the Gaza Strip.
The attack, which was captured on video and widely shared on social media, drew the attention of several politicians. Police said the incident is being investigated as a hate crime and Cuomo also ordered a special task force to assist in the investigation.
The pro-Israel and pro-Palestinian demonstrations in midtown Manhattan over the fighting in Gaza resulted in dozens of arrests. That same night, a cease-fire was also called between Israel and Hamas.
Reuters contributed to this report.
From NTD News