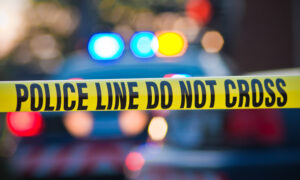 Police have arrested a male suspect in connection with the fatal mass shooting over the weekend at a house party in Bridgeton, New Jersey, that left two people dead and 12 others injured, officials said.
The New Jersey Police Department said in a statement on Monday that 36-year-old Kevin Dawkins, of Bridgeton, has been arrested and taken to Cumberland County jail pending a bail detention hearing.
Dawkins's connection to the shooting remains unclear, with police saying he has been charged with unlawful possession of a weapon, possession of a large-capacity magazine, and possession of a weapon for an unlawful purpose.
The two victims killed in the shooting have been identified as 25-year-old Asia Hester and 30-year-old Kevin Elliott, both of Bridgeton, police said.
Speaking at a press conference Monday, New Jersey Gov. Phil Murphy called the shooting "horrendous and horrific," adding that the demands of the active investigation preclude some details of the incident from being made public.
While some of the 12 injured escaped with minor injuries and have been released from the hospital, others "continue to fight for their lives," Murphy said.
"Many others who were in attendance will carry the emotional scars of Saturday night," he added.
Attorney General Gurbir Grewal said at the press conference that the mass shooting, which took place during a house birthday party, was a targeted attack.
"This was not a random act of violence," Grewal said, adding that investigators have recovered multiple firearms and are working to determine if they had been used to commit other acts of violence in the area.
Col. Patrick Callahan, superintendent of the state police, told reporters at the press conference that he expects more arrests.
"Witness interviews are still being conducted, digital evidence is being recovered," Callahan said. "Search warrants are being executed and forensic evidence is being analyzed. A number of firearms have been recovered from various locations and as the AG stated, one individual has been arrested and we anticipate additional arrests."
Grewal's office said in a statement (pdf) that police responded to a house on East Commerce Street at around 11:50 p.m. on Saturday in Fairfield Township, about an hour outside of Philadelphia. They discovered two victims with fatal gunshot wounds and at least one with critical injuries.
"This was a birthday party," Murphy said. "A birthday party is supposed to be a joyous event, not a target for those hellbent on inflicting harm on a community."