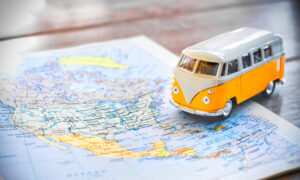 While American road trips had a golden age of sorts from the 1950s to the 1970s, thanks to a quickly developing interstate highway system and the automobile becoming a commonplace fixture, there's perhaps never been a better time to hit the road.
As travel restrictions begin to loosen, many Americans are turning to road trips to scratch their itch of wanderlust and cure their cases of pandemic-induced cabin fever.
In fact, online discount travel agency Priceline conducted a survey that took a deep dive into America's current resurgence of road trips and found that in the last year, road trips have become so popular that 9 in 10 Americans have taken at least one—and the vast majority (75 percent) took more than four.
While part of the allure of road trips is the fact that you can simply pack up the car and set out for an adventure, your experience will be much richer if you take some time to plan ahead. You can prepare for your four-wheeled excursion as much or as little as you'd like, but somewhere in the middle is a happy medium that will help smooth any bumps in the road before you hit them.
Below, find road trip wisdom (some hard-earned) to ensure smooth sailing—er, driving.
This Summer's Road Trip Popularity Surge
In order to better examine this summer's road trip travel trend, major car rental company Hertz surveyed nearly 1,500 Americans to find out how, where, and when they plan to hit the road this summer.
The survey revealed that more than 81 percent of participants said they plan to take a road trip this summer, and as far as their intended destination, 42 percent of participants plan to travel to the South or Southeast on their road trip. Also noteworthy is the fact that 52 percent of respondents plan to resume traveling as early as June.
Rachel Obenchain of Concetta Consulting is one such road tripper. She's currently prepping for a six-week road trip throughout the United States.
"I'm going because I have the summer mostly off," she said. She's a teacher and chose not to take her usual summer job, plus the pandemic has her stir-crazy to travel, she says.
Also tempting Obenchain to travel is the fact that she has family members who recently moved to Charleston. "I've never been to Charleston. So I thought, 'Why not drive?'" said Obenchain, who lives in Washington state. Along the way, she also plans to visit her 100-year-old great uncle in Baton Rouge.
"We were supposed to see him in April 2020, but we all can guess how that turned out."
As summer barrels toward us, plans to resume traveling—primarily via domestic road trips—are picking up speed.
Properly Preparing for a Road Trip
Everyone's road trip prep looks a little different, and how much time and mental energy you invest depends a lot on your situation and your goals for the trip. If you have a car full of kids and just want to get from Point A to Point B as quickly and painlessly as possible, your road-trip planning will look much different from a young solo traveler who wants to cross the country and leave time for whatever detours strike their fancy along the way.
In Obenchain's case, she's making light plans that fit her route and schedule, but leaving room for spontaneity as well.
"To get ready, I accidentally stayed up literally all night mapping my route and searching for unique Airbnbs and hotels, knowing I needed to get to South Carolina and stop in Louisiana," she said. "I thought about doing some camping for about 10 seconds and quickly vetoed that idea!"
Obenchain has a few experiences booked, including going to a rescue barn in Tennessee and walking rescue dogs in San Diego; she's also going to a Cubs game in Chicago and already has all of her brunches booked through OpenTable in Atlanta. The rest is up to the open road.
When it comes to packing and preparing for your own road trip, take advice from travelers who have learned things the hard way—and make a list of tasks and items that travelers often overlook so you can avoid making those same mistakes.
Some top tips for properly preparing for a road trip include:
Get your car ready for the trip—make sure all maintenance is up-to-date, including oil and fluid levels, and consider having a mechanic look the entire car over for any potential problems. Equip your car with the tools you may need for small emergencies like a windshield chip, nail in your tire, or similar. Also make sure your license and registration are both current and not nearing expiration.
Buy travel insurance if you're going far from home

.

Pack car-compatible chargers for phones, tablets, and any other electronic devices you'll use en route. It's also a good idea to pre-download podcasts, shows, and audiobooks at home before you go in order to avoid unnecessarily using cellphone data.
Bring healthy snacks to eat on the road—not only will you save money, but you'll feel better and avoid that over-salted or over-sugared crash.
Don't overpack—it's stressful and only ensures you'll enjoy the destination less. Organize your car to be functional, with the items you'll want en route easily accessible.
As you map your route to your destination, make sure you don't plan to arrive too early; arriving at a hotel or Airbnb before check-in time might lead to lost, boredom-filled hours. Or, if it works out that you get to your destination in the morning, make alternative plans that don't involve settling into your accommodations until the afternoon.
Road Trip Tips
If you want to arrive at your destination with everyone still on speaking terms after as peaceful a trip as possible, communication is key.
Kate Fraiser, who's a parent coach for Connect Point Moms and the director of early childhood at Grace Point Church in Las Vegas, advises talking things over with your traveling companions long before departure. Setting proper expectations and making sure everyone's on the same page can help prevent arguments along the way.
"Think through what you will do for eight-plus hours in the car," Fraiser advised. "Is it OK if everyone is on their own media, or do you want to listen to an audiobook or music or play games together? Would you like to be able to stop when you see something cool or just get to where you're going?"
While there's a good chance not everyone will agree on their hopes and dreams for the drive, communicating your expectations beforehand is vital in letting others know what you want and expect—and hearing the same from them.
As with most situations in life, flexibility is also key. Thanh Dang, a professional travel and food blogger and owner of The Daily Tourist, says this is something he learned from experience.
"Flexibility is definitely the most important thing to have," he said. "By adding a few hours to make a certain detour to see something, it'll make your road trip so much better, as you'll get to explore so many new sights and places."
Dang said he was once road-tripping from San Diego to Houston and originally planned for it to be a straight drive.
"But my friends who were traveling with me convinced me to spend a few hours longer to go sightseeing." By doing so, they were able to check out most of Arizona, including places such as Red Rock Canyon, Horseshoe Bend, Antelope Canyon, and more.
"By having the flexibility to increase the time it took to travel, I was able to see so much more than what I had previously planned."
Tips for (Happy) Road-Tripping With Children
Road trips can be difficult. Add a whole family's worth of plans and opinions—including the unique needs of little ones—and you have a recipe for disaster unless you plan otherwise.
"The key to a mostly smooth road trip with kids is preparation," says Alexandra Fung, mom of four and CEO of Upparent, a parent-to-parent recommendation-sharing site. "This includes having a good balance of easy-to-eat snacks with both healthy and fun 'junk food' options, planning for regular pit stops that allow kids to stretch their legs, and of course, entertainment for the long periods of time in the car."
Adam McLaughlin, whose family has been full-time RVers since 2018 and are co-hosts of the TV show "The RVers" on Discovery Channel, advised having a paper atlas that kids can follow along with—an old-school entertainment alternative to today's endless array of screens.
"We bought one of those oversized ones that the truckers use," he shares. "We'll say 'Going past X highway, what's our next road going to be?' or 'How many roads until we cross into the next state?' Our oldest now has a pretty good sense of the geography of Canada and the U.S. since we've been doing this through 40 states and across Canada twice."
McLaughlin adds another genius tip his family implemented on vacations when his kids were younger:
"Take a clear Ziploc bag for each kid and put in the number of dollar bills for their age, then tape it to the back of the passenger-seat headrest," he advises. "If the kids asked 'Are we there yet?' or 'How much longer?' we would take a dollar out of their bag. They learned quickly not to ask, then got to spend their money when we arrived at our destination!"
Skye Sherman is a freelance travel writer based in West Palm Beach, Fla. She covers news, transit, and international destinations for a variety of outlets. You can follow her adventures on Instagram and Twitter @skyesherman.