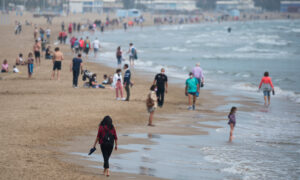 Spain said that non-essential travel from the UK and Japan will be allowed from Monday, as the European Union is expected to decide on whether to add the countries to the bloc's "safe list."
In a press release (pdf) published on Friday, the Spanish Interior Ministry said the two countries will be added to the list of destinations not affected by the temporary restriction of non-essential travel to the EU.
The Interior Ministry said that some EU member states had already given the privilege to Japan and the UK and that British tourists play a key role in the Spanish economy.
The rule change also noted that the EU is discussing whether to scrap limits on travel into the bloc from the UK and Japan, and that the change is likely to be approved.
Speaking at the Fitur tourism fair in Madrid, Spanish Prime Minister Pedro Sánchez said that "Spain will be delighted to receive British tourists again into our country" from Monday, according to the Spanish newspaper El País.
However, many UK tourists won't be able to book holidays to Spain yet, as the country is still on the UK government's "amber list."
Spain's neighbor Portugal is currently the only EU destination that is on the UK's "green list," and is allowing UK tourists in the country.
The UK's cabinet ministers have appealed to the public to be "patient" and not to go to amber list countries for holidays, as the government adopts a "common sense" approach instead of legal restrictions.
Prime Minister Boris Johnson has said that people shouldn't travel to amber list countries except "for some extreme circumstance, such as the serious illness of a family member," or an "urgent business reason."
There's no law prohibiting people to take a holiday in Spain, but the holidaymaker will have to pay for three CCP virus tests and self-isolate for ten days at home upon returning or face a fine of up to £10,000 ($14,200).
As the UK resumed non-essential international travel on Monday, only a handful of countries and territories has been put on the "green list" of the traffic light system.
Transport Secretary Grant Shapps told BBC Radio 4 on Thursday that the government is reviewing its lists every three weeks, and the next review is in the first week of June.
In 2019, Britain sent 18 million people to Spain, the most of any country. Tourism is a mainstay of the Spanish economy.
The Associated Press contributed to this report.