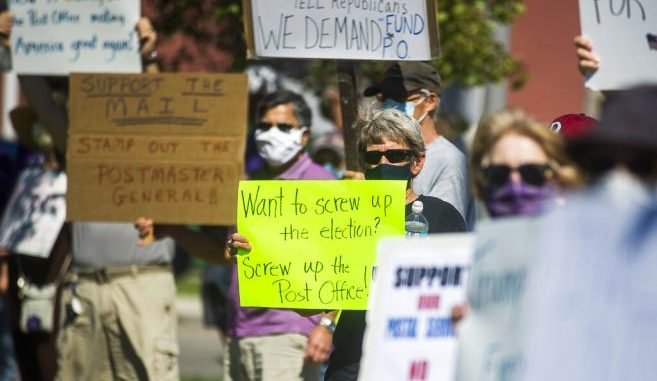 OAN Newsroom
UPDATED 4:00 PM PT – Saturday, August 15, 2020
A number of protesters gathered outside the home of Postmaster General Louis DeJoy on Saturday. The demonstration was coordinated by the group "Shut Down D.C." and was purposefully scheduled in the early morning to act as a "wake up call."
Demonstrators loudly chanted and banged on pans throughout the event. They also put fake ballots on the front door of DeJoy's condo complex.
Protesters say they are outside Postmaster General Louis DeJoy's apartment building to protest his destructive leadership ahead of mass mail-in voting in the 2020 presidential election.@wusa9 pic.twitter.com/i2RXEESefO

— Kolbie Satterfield (@KolbieReports) August 15, 2020
According to participants, they're fighting against the elimination of the USPS. They also called for more support for mail-in voting.
"It's not just suppressing voters in general, it's suppressing a specific set of voters. That's outrageous. If we can't rely on those ballots getting to where they need to go, we've got a serious problem with our democracy." – Patrick Young, "Shut Down D.C." organizer
DeJoy cut a number of costs for the agency in recent weeks. The move has come under intense scrutiny amid delays in mail delivery, which some claimed could impact the accuracy of the election.