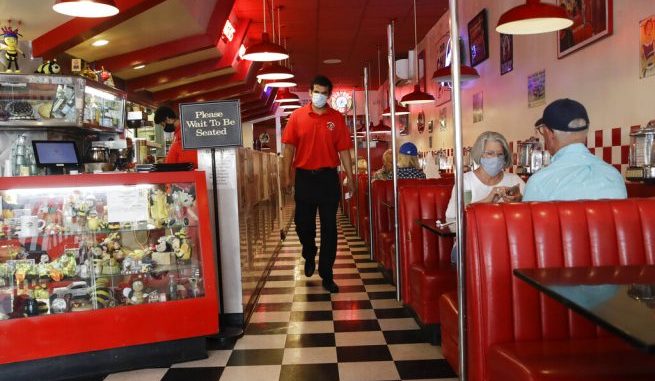 OAN Newsroom
UPDATED 9:35 AM PT — Friday, May 22, 2020
California has allowed 40 of its 58 counties to reopen as Gov. Gavin Newsom (D) gradually lifts the state's stay-at-home order. On Wednesday, several counties, including San Diego and Santa Barbara,were given the green-light to reopen in-person dining and in-store shopping with social distancing guidelines.
In order for businesses to resume operations, they must complete a "risk assessment," their workers must be trained to counteract the spread of coronavirus and they must conduct mandatory temperature checks on its employees.
Restaurants will also be required to display "safety dining posters" prior to reopening.
"People just keep calling, trying to make reservations all day," said restaurant owner Baris Yildiz of Napa Count. "We cannot wait till we're open tonight, it's going to be like a grand opening."
However, many restaurant owners are concerned anxious customers may result in a slow return.
"We've had more to-gos than dine in customers today, so that kind of says something," said Nicholas Kacha, a restaurant manager in San Diego County. "I think it just takes time for some people to kind of digest it and, you know, they definitely want to feel safe so its gonna take some time for them to feel that way."
A handful of Northern California counties and Los Angeles County were not included in the list of regions quickly reopening.
In a letter to Gov. Newsom, Los Angeles County Supervisor Janice Hahn asked to allow retailers statewide to "open their doors" with limited capacity and other safety modifications. She claimed curbside pick-up gives big companies an opportunity to flourish and it's unfair for small businesses who do not have the same resources.
I will be holding another live Janice Journal tomorrow to discuss LA County's re-opening and my letter to Gov. Newsom. You can watch on my Facebook page at 11 a.m: https://t.co/wPOzKdJQxY.

I am also answering questions. You can send them to me at JaniceJournalLive@gmail.com.

— Janice Hahn (@SupJaniceHahn) May 22, 2020
Meanwhile, Los Angeles County's stay-at-home order was recently extended until July. Gov. Newsom has said parts of the state may be ready to move into stage three, which would allow salons, gyms and other "higher risk" businesses to reopen in the coming weeks.