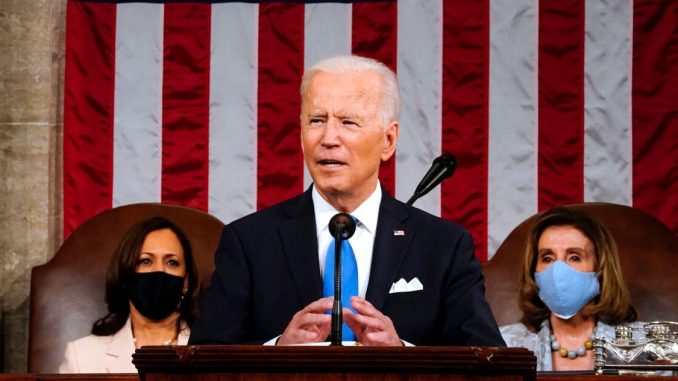 President Joe Biden on Wednesday night delivered his first address to a joint session of Congress on the eve of his 100th day in office, taking the opportunity to paint the future of the nation as that of hope, strength, and resilience amid the ongoing CCP virus pandemic. 
"As I stand here tonight, we are just one day shy of the 100th day of my administration," Biden told Congress, saying that on Jan. 20 he inherited a nation that was "in crisis" under his predecessor former President Donald Trump.
"The worst pandemic in a century. The worst economic crisis since the Great Depression. The worst attack on our democracy since the Civil War," the president continued. "Now—after just 100 days—I can report to the nation: America is on the move again."
"Turning peril into possibility. Crisis into opportunity. Setback into strength," he said. "America is rising anew. Choosing hope over fear. Truth over lies. Light over darkness. After 100 days of rescue and renewal, America is ready for takeover."
"We have shown each other and the world that there is no quit in America."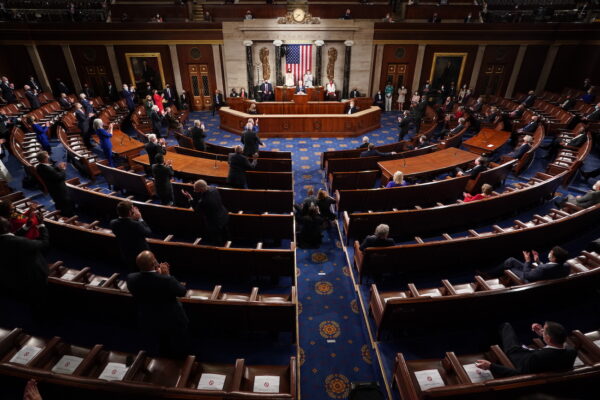 The president in his speech updated Americans on his early accomplishments, the current condition of the nation, the economy, emphasizing that the economy is on the mend under his watch.
He  celebrated the passage of the $1.9 trillion CCP (Chinese Communist Party) virus pandemic stimulus bill, which cleared the Senate without the support of a single Republican. The CCP virus is commonly known as the novel coronavirus.
Biden also unveiled a $2.3 trillion infrastructure package earlier this month. Republicans have blasted both the pandemic relief bill and the infrastructure proposal as having little to do with the pandemic or infrastructure.
Democrats argue that pushing the pandemic stimulus through without Republican support was necessary to help Americans struggling with the economic impacts of the pandemic.
"The Americans Jobs Plan is a blue-collar blueprint to build America," Biden said, noting that independent experts estimate it will add millions of jobs and trillions of dollars in economic growth in the United States for "years to come."
"These are good-paying jobs that can't be outsourced. Nearly 90 percent of the infrastructure jobs created in the American Jobs Plan don't require a college degree. 75 percent don't require an associate's degree," the president said.
Biden added, "We have to prove democracy still works. That our government still works—and can deliver for the people."
The president said that his administration in its first 100 days has acted to "restore the people's faith in our democracy to deliver."
Biden last week surpassed his goal of administering 200 million COVID-19 shots by his 100th day in office.
"We've got vaccines in more than 40,000 pharmacies, we're setting up community vaccination sites … mobile units to get to hard-to-reach communities. Everyone over the age of 16 is now eligible to get vaccinated."
The president in his speech implored viewers to "go get vaccinated."
"There's still more work to do to beat this virus. We can't let our guard down now," he said.
"Tonight, I can say because of you—the American people—our progress these past 100 days against one of the worst pandemics in history is one of the greatest logistical achievements this country has ever seen."
He added, "We're vaccinating the nation. We're creating hundreds of thousands of jobs. We're delivering real results people can see and feel in their own lives. Opening the doors of opportunity. Guaranteeing fairness and justice."
The president has faced criticism for delaying his first address, in contrast to his predecessors. President Donald Trump delivered his first speech to Congress on Feb. 28, roughly two months earlier than Biden.
South Carolina Sen. Tim Scott delivered the Republican party's response to Biden's first joint address on Wednesday night. In a Twitter statement that immediately followed Biden's address, Scott took aim at the policies outlined by the president to the nation.
"The beauty of the American Dream is that families get to define it for themselves," he said. "We should be expanding options and opportunities for all families—not throwing money at certain issues because Democrats think they know best."
Sen. Tom Cotton (R-Ark.) meanwhile described the president's agenda as "dead on arrival," saying on Twitter that Biden promised "higher taxes, crushing debt, and open borders."
This story is developing.
Ivan Pentchoukov contributed to this report.