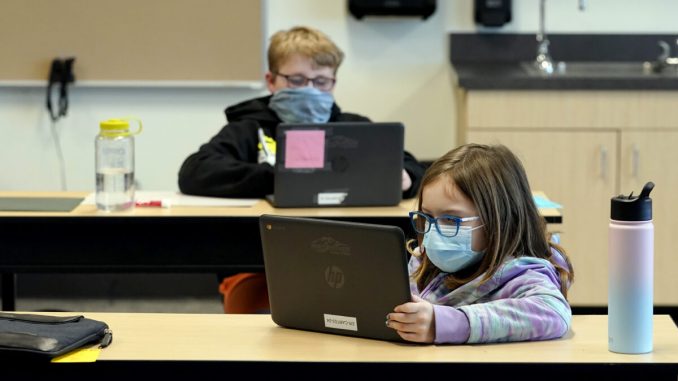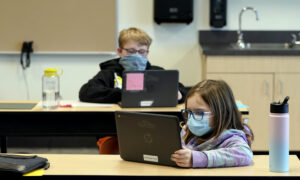 Authorities in New Hampshire arrested a Sunday school teacher who was attending a school board meeting without a mask and was protesting the board's mask mandate, according to attendees and family members.
Kate Bossi, the mother of a child, attended the Timberlane Regional School Board's meeting at the district's Performing Arts Center in Plaistow without a mask.
"You are violating my rights right now. You are remiss," Bossi told police as she was arrested and led out of the building, according to the New Hampshire Union Leader. "Come on, Sgt. Porter. You know this is wrong what they're doing to our kids," another man shouting, the paper reported.
"Are you seriously doing this you guys. This is law enforcement. You're not enforcing laws, you're enforcing policy. That doesn't matter," Jackie Wydola, who captured a photo of Bossi being arrested, told the officers. Wydola, the woman's daughter, said that before the arrest, her mother "didn't really have any interaction with the officer" and "just walked into the building, and when they realized that she had come into the auditorium they followed her in here."
Bossi was the first unmasked person to enter the building during the meeting, Wydola told the Union Leader.
When they arrived inside, Chairwoman Kimberly Farah shut down the meeting and said it would be held remotely.
"I didn't want to jeopardize the health of the staff and the students," Farah said.
But Bossi said that she and other unmasked individuals "have every right to be here," adding: "I get it's scary, but that should not dictate our right to be here."
Earlier in May, the U.S. Centers for Disease Control and Prevention (CDC) relaxed guidance around mask usage indoors and outdoors for people who are vaccinated against COVID-19, saying that unvaccinated people should still wear masks. The head of the agency, Dr. Rochelle Walenksy, also told news outlets that children, who are not vaccinated, should still wear masks inside.
Throughout the pandemic, mask-wearing has been a contentious issue. Several states, including Texas this week, have moved to rescind mandatory mask mandates.
In recent months, there have been arguments against children wearing masks, saying the face coverings damage kids' mental health and ability to develop communications skills.
A 10-year-old Florida boy drew headlines after he questioned the need to children to wear masks during a school board meeting, and a mother in Georgia went viral after begging officials to end face mask mandates for kids in schools.
The Epoch Times has contacted the Timberlane Regional School Board for comment.