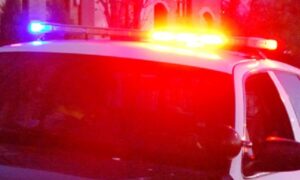 More than 150 missing children have been found in North Carolina, a few of whom were victims of human trafficking, according to police.
On Wednesday, Charlotte-Mecklenburg Police Department (CMPD) announced that detectives and marshals had recovered more than 130 missing and runaway juveniles, prior to an investigation called "Operation Carolina Homecoming" to recover missing and runaway children in the Charlotte area, where earlier efforts to find them had failed.
The operation, which took place April 26 to May 7, was able to find another 27 missing children.
CMPD Captain Joel McNelly told reporters at a press conference that searching for missing people, including children, is something the police department does on a daily basis. However, the operation had focused in on children who were "actively taking measures to avoid being recovered" and some were "self-sustaining, they're trying to make money, support themselves."
Some of these children had been missing from six months to more than a year, and most were around 14-18 years old, he said.
"Several of these kids were engaged in high-risk activities," McNelly said. "Not to sugar coat anything but narcotics activities, human trafficking, prostitution."
The children were reunited with their families or taken into the custody of the Department of Social Services.
McNelly said there haven't been any arrests from the operation. However, he said the operation has served as a "jumping off point" to start an investigation for the cases that were involved in human trafficking activities. "Obviously that is something that we take very, very seriously."
The department announced in a release, "To provide [the juveniles] with resources for recovery, the CMPD leveraged partnerships with Atrium Health Levine Children's, Pat's Place Child Advocacy Center, the North Carolina ISAAC Fusion Center and Mecklenburg County Child Protective Services."
Dr. Stacy Reynolds, a pediatric emergency medicine specialist affiliated with Atrium Health's Carolinas Medical Center, told reporters that it is important for some children to find healing beyond the immediate physical traumas they may have experienced, to ensure their long term wellbeing.
"For kids that have experienced a lot of exploitation and trauma—particularly if they think they were complicit in participating—they really have to reintegrate that trauma into their identity and re-envision themselves in a different way and make peace with what they experienced on the street," she said.
"So that's why it's not uncommon for these kids to relapse because that's a process. Too often, we focus on only the physical safety of those kids, and some of our long term options are too custodial and not really fully focused on the emotional and psychological needs of those kids that made them run in the first place."