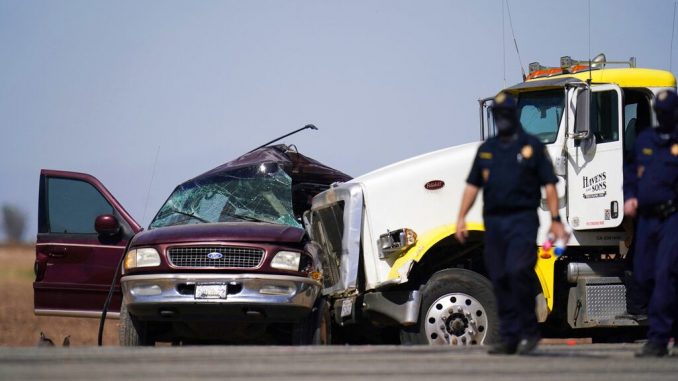 OAN Newsroom
UPDATED 9:01 AM PT – Wednesday, March 3, 2021
Officials in Southern California are investigating what they called a "chaotic scene" after an SUV collided with a truck on Tuesday morning. More than a dozen people were killed in the incident. he crash happened in Imperial County, California about 13 miles from the U.S.-Mexico border.
During a press briefing, a spokesperson from California Highway Patrol (CHP) said the incident was caused when a Ford Expedition that was packed with 25 passengers collided with a semi-truck hauling gravel.
"In the SUV we had 12 fatalities on scene," stated Border Division Chief Omar Watson. "One person passed over at the hospital for a total of 13 people that passed away."
CHP officials said the ages of those injured in the crash ranged from 16 to 55-years-old and children also were involved.
Authorities pointed out the negligence of those involved in the deadly crash had while pointing out the SUV model can only seat eight to nine passengers legally.
"It's unfortunate that that number of people were were put into that vehicle because there's not enough safety restraints to safely keep those people within the vehicle," Watson explained. "There are numerous people that were ejected onto the roadway as a result of this collision, so part of our message is to make sure that we get out to our communities and make sure that safety restraints are part of the picture to save lives."
The truck driver suffered minor injuries and nearly a dozen of the SUV's passengers were transported to local hospitals. Medical professionals said those in the SUV suffered injuries varying from minor fractures to life-threatening injures.
Currently, CHP is working with the Mexican Consulate to identify the victims involved and notify their families. Meanwhile, an investigation into what caused the crash is still underway.
Additionally, federal officials launched a human smuggling probe following the deadly California crash. Immigration and Customs Enforcement (ICE) announced its investigation Tuesday. This came after Mexican Consulate confirmed 10 of the 13 people who died in the crash were Mexican nationals.