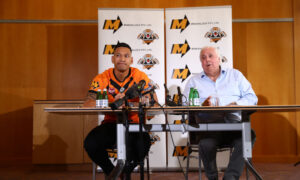 Israel Folau, the Australian footballer who was cancelled for religious views he expressed on social media, has returned to rugby league by signing for Gold Coast Southport Tigers.
Folau announced on Friday that he had signed a contract with Southport Tigers to play the remainder of the season, while his registration with the Queensland Rugby League (QRL) is still pending.
The QRL said it would consider registering Folau's application "in line with its rules and processes that govern the registration of players."
Folau's return is backed by Clive Palmer, the mining magnate and former politician, a club patron.
"I am very pleased to announce that through sponsorship with Mineralogy, this great sporting champion will soon be returning to rugby league," said Palmer. "We hope the Queensland Rugby League will register Israel in accordance with the law.''
Media release:
Palmer kicks in for Israel Folau's return to rugby league
Clive Palmer announced today that his mining company Mineralogy would sponsor Israel Folau's return to rugby league, playing for Gold Coast team the Southport Tigers.

— Clive Palmer (@CliveFPalmer) May 21, 2021
.
"Israel was unfairly punished and persecuted for his religious beliefs, and it is only right that he should return to the game," he said.
In April 2019, Folau shared his religious views on various topics, including homosexuality, on his Instagram and Twitter accounts. However, it was a post that said Hell awaits "drunks, homosexuals, adulterers, liars, fornicators, thieves, atheist and idolaters" that caused him to lose his contract with Rugby Australia (RA).
Folau later apologized to those who may have been offended by his posts. But he said the criticism would not stop him from expressing his belief.
"I am very grateful for this opportunity Clive Palmer and Mineralogy have given me and my family,'' Folau, who has two brothers, John and Eni, currently at Southport Tigers, said at the press conference.
"I believe everything, from my faith in God, happens for a reason. I am so thankful for what I've gone through because it has brought me a lot closer to Go, so I wouldn't change anything," Folau said.
When asked about his social media posts and what he stood for, Folau said that as a Christian, he stood by the Bible and what the Bible says.
"I stand by that, and that's all I'll say about that," the rugby star said about his social media posts.