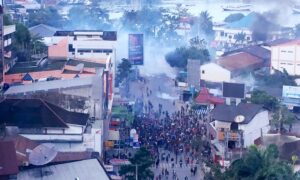 The West Papua Liberation Army has claimed responsibility for the death of two Indonesian soldiers amid increasing tensions between Indonesia and Papuan separatists.
This comes just weeks after the Indonesian government designated Papuan independence fighters and members of the Free Papua Movement (OPM) as "terrorists," following the killing of the province's intelligence chief by rebel groups in late April.
According to the West Papua Liberation Army, a third Indonesian soldier was injured in the attack, following claims that Papuan separatists stole the soldiers' guns, reported RNZ news.
Indonesia's Chief Security Minister Mahfud MD said rebel groups killed two patrolling soldiers in Dekai district in Yahukimo regency on May 18.
"The attack shows that the terrorist groups continue to commit violence in Papua," Mahfud told a Jakarta press conference the following day.
"The [Indonesian] government is committed to completely quell the groups in Papua."
At least three soldiers and nine rebels have died in military and police attacks, including the death of Papuan separatist commander Lesman Waker, who Indonesian soldiers killed on May 14. Walker was killed near one of his group's hideouts.
"The scene of the shooting was around the village of Wuloni, which is suspected of being one of the hiding places of the Lekagak Talenggeng terrorist group," police said in a statement on May 13.
Waker's group has been accused of killing the said intelligence agency officer, Brigadier General Putu Dani, who headed agency operations in the region.
Indonesia has since deployed 400 soldiers following Indonesia's President Joko Widodo's crackdown.
Indonesia's chief security minister, Mahfud, said the designation of Papuan separatist groups "terrorists" was aimed at those pushing for the separation of the Indonesian provinces of Papua and West Papua, reported the Australian Broadcasting Corporation (ABC).
"The government see any Papuan organisations or people committing massive violence can be categorised as terrorists," Mahfud said.
"Terrorism is any action that uses violence or threats of violence to create an atmosphere of terror or widespread fear that can cause mass casualties or cause damage or destruction."
Under Indonesia's counter-terrorism laws, authorities have enhanced powers, including holding suspects for several weeks without formal charges.
Papuan separatists have pushed for independence in the former Dutch colony for decades, saying a 1969 vote overseen by the United Nations that brought the region under Indonesian control was illegitimate.
Indonesia rejects that.
Last week, authorities arrested Papuan independence leader Victor Yeimo over accusations that he orchestrated some of the most serious civil unrest in decades that broke out in 2019.
Reuters contributed to this report.